This Rotten Week: Predicting American Ultra, Hitman: Agent 47, And Sinister 2 Reviews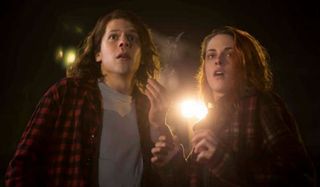 The summer season is drawing (too quickly) to a close. There've been some highlights and definite lowlights. And as we get toward the end, the latter come much more into play. It's not a totally lost week, but there's less and less to get excited about in the theaters. We've got Hitman Agent 47 and Sinister 2 and American Ultra.
Just remember, I'm not reviewing these movies, but rather predicting where they'll end up on the Tomatometer. Let's take a look at what This Rotten Week has to offer.
POSTER HERE, LINK IT TO PREVIEW PAGE
PREDICTION RATING HERE, LINK IT TO ROTTEN TOMATOES PAGE
Rotten Watch Prediction
58%
There are a couple of Bourne-like movies on the docket this week. And by that I mean, flicks in which a character realizes (or finds out in some way) they have deeply entrenched espionage and killing-machine skills they didn't know previously existed. Besides that, the movies are wildly different in tone. I'll take the laughs of American Ultra almost every time, though. I'd much rather it be a dopey convenience store clerk finding out he can kick ass than your run of the mill action type.
See Jesse Eisenberg find out he's a killing machine in the trailer for American Ultra below:
A somewhat new take on an older movie theme, the film finds Jesse Eisenberg as a stoner slacker working a dead end job who learns, out of the blue, that he's actually a super soldier with all the killing skills of Jason Bourne. The idea seems fresh enough, and Eisenberg has the kind of "out there" aesthetic to pull off the comedic beats. I'm not positive how the flick will hold up over a ninety minute half action/ half comedy run time, but it for sure will have its moments.
There are enough players in this flick to suspect it has at least a modicum of critical success. Kristen Stewart is an actress who has chops when the material's right (think everything but Twilight). Plus folks like Tony Hale, Topher Grace, Connie Britton and Bill Pullman being involved means you've got a very strong cast. The idea of a guy like Eisenberg being a trained killer seems like just enough to hold it together from a laughs perspective and it doesn't look like they've skimped on some of the action sequences (even for a clear satire).
Director Nima Nourizadeh only has the disappointing Project X (28%) to his name, though one movie does not a career make (both good or bad). Meanwhile, Max Landis penned the script and does have a win on his resume with Chronicle (85%). I think, overall, the slacker culture, spy game mash up plays with the right kind of crowd (though not everyone) and lands in the middle of the road with critics.
PREDICTION RATING HERE, LINK IT TO ROTTEN TOMATOES PAGE
Rotten Watch Prediction
Why I'd make a perfect Hitman. Bald? Yes sir. Like operating on my own? Always. Fill out a suit well? It sort of depends on the cut of course because I'm a little bigger in the rear end area, but I could definitely discuss this with the elite agency that's outfitting me. So I'm not worried about that part of it. Where I might fall a little short is the strength, speed, cunning, intelligence and stealth part. But one can just leave those elements to the lead of Hitman: Agent 47.
Watch the trailer for the videogame killer's new movie here:
Another "special skills" flick is in theaters this week though, it's in a much different vein than the one we already discussed. It's the second in the Hitman franchise, though this one is a reboot that doesn't star Timothy Olyphant. The first flick was a rousing disappoint finishing with a 14% on the Tomatometer. That's to be expected often with flicks based on stories originally developed for the gaming world. Not to say those stories don't have merit, but they've struggled to gather any critical traction through the years. The Resident Evil's and Max Payne's of the world are fun to play, but haven't done wonders in theaters.
Director Aleksander Bach is making his big league debut with this film, and has no other credits of which to speak. Not sure if this is how you want to hit the big time, though who am I to say? I don't work Hollywood and have zero films to my name. So he's beating me at least.
Screenwriter Skip Woods helped pen films like A Good Day to Die Hard (14%), The A-Team (47%) and X-Men Origins: Wolverine (38%). None of these help inspire a great deal of confidence on the critical front. Add in one of his first efforts was the original Hitman and you've got a resume high on action, light on story or critical acclaim. This latest will very much follow suit. Made for the diehards who love the games and few others, it will no doubt score low with critics. But it will have its core fan base and that's usually what these flicks are shooting for.
PREDICTION RATING HERE, LINK IT TO ROTTEN TOMATOES PAGE
Rotten Watch Prediction
A note to all of you parents out there: Let's say you move into a new house and all of sudden your normally sweet kid starts acting out a bit. And I don't mean crying because they didn't get a second cookie or complaining about having trouble making new friends. Not that stuff. I more talking like walking around in the middle of the night trying to kill you and the rest of your loved ones. That kind of weird. If this happens, move. So many movie characters fail to see the warning signs and then before they know it, they're getting hacked to bloody bits... and it looks like it's about to happen all over again in Sinister 2.
See what I mean in the trailer below:
The sequel to the original Sinister (62%) is about a family who moves into a house where a bunch of murders have happened only to, you know, get murdered themselves. This level of stupidity is almost enough to make the rest of the film series a total stayaway. Can you imagine, under any scenario, where you move your family into a house where all the other previous families have died? Is there any low point in the market that would have you scooping up this piece of real estate? No chance. And it compromises the rest of the film.
Even if you give this new family the benefit of the doubt, like the realtor mislead them in the "Was there a murder here?" disclosure documents, they still are asking for it when their kid all of a sudden turns into a possessed, murdering psychopath. (More than your standard preteen at least.)
These films are a dime a dozen. Some ghoul, entity, demon whatever possesses a place and the rest of the film is a jump out of your seat, let's solve the mystery work of blah, blah, blah. I feel like they come out once a month at least. It takes a special film to rate in a saturated genre. I don't think this is the one. I'm sure it will have its moments, but on the whole this thing disappears into the horror landscape pretty quickly.

This poll is no longer available.

It wasn't a great week for the Rotten Watch last time around. I'll start with my biggest miss: I had major reservations about Guy Ritchie's The Man from U.N.C.L.E. (Predicted: 34% Actual: 67%). It's delay in release, the frenetic pace of the trailer, and a couple other odds and ends led me to believe it would underperform. I was incorrect on that front. While critics weren't over the moon about it, it nevertheless finished with a healthy score. Cinema Blend's Mike Reyes loved the film, giving it four and a half stars in his review, saying it had more "focus" and "gravity" than the director's work with Sherlock Holmes. Those were the two exact things I thought the film would lack, and it made my score a major miss.
Meanwhile, I was off on Straight Outta Compton (Predicted: 75% Actual: 88%) as well. I suspected the score would dip more over the course of the week. Some early reviews were very positive, but they had some reservations about the middle portion of the film. I thought this would affect critics writ large, but It didn't and the score stayed on the very high end.
Finally, Underdogs (Predicted: 60% Actual: 64%) finished in range, but I can't be too self-congratulatory on that end. It had already come out in two different countries and been warmly received. Ultimately it becomes a fine enough animated film that will surely be forgotten in just a few weeks until it shows up on some kids' channel somewhere, or Netflix. That's the nature of these things.
Next time around we start winding the summer to a close with We are Your Friends and No Escape. It's gonna be a Rotten Week!
Doug began writing for CinemaBlend back when Terminator: The Sarah Connor Chronicles actually existed. Since then he's been writing This Rotten Week, predicting RottenTomatoes scores for movies you don't even remember for the better part of a decade. He can be found re-watching The Office for the infinity time.
Your Daily Blend of Entertainment News
Thank you for signing up to CinemaBlend. You will receive a verification email shortly.
There was a problem. Please refresh the page and try again.