This Rotten Week: Predicting The Boy Next Door, Mortdecai And Strange Magic Reviews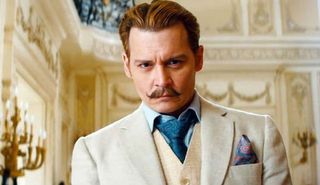 This week we have a busy one when it comes to new releases, but it appears a quantity-over-quality type of slate. Let's see what we've got going with boys next door, strange magic and a dude named Mortdecai.
Just remember, I'm not reviewing these movies, but rather predicting where they'll end up on the Tomatometer. Let's take a look at what This Rotten Week has to offer.
POSTER HERE, LINK IT TO PREVIEW PAGE
PREDICTION RATING HERE, LINK IT TO ROTTEN TOMATOES PAGE
Rotten Watch Prediction
I'm not in the seduction game. It would be hard for you to believe that if you met me in person, as I'm at least an eight. But believe me, it's true. I don't have much of a game, and the idea of unabashedly seducing a J-Lo type living next door seems outlandish even by my own lofty standards. Needless to say, there's a reason I'm not the one starring in this new film.
See a guy who pulls it off in the trailer for The Boy Next Door.
There is one reason to suspect this movie will be a pile of critically-reviled trash, and that reason's name is Rob Cohen. The dude is the director of The Boy Next Door and has a resume you only read about at the Razzie Awards. He's helmed such masterpieces as Alex Cross (12%), The Mummy: Tomb of the Dragon Emperor (13%), Stealth (13%) and The Skulls (9%). That is a murderer's row of crappy flicks. His two crowning achievements are The Fast and the Furious (53%) and XXX (48%) and those only avoided the basement because the stunts were good enough to keep people entertained. This latest film deals with actual people and "relationships". That doesn't appear to be Cohen's strong suit.
This thing will almost definitely trend toward the bottom. It looks ridiculous and mildly over the top (not in a good way). While J-Lo will probably hold her own, I doubt she can overcome a silly premise and story that most likely ends with her killing the neighbor. Is there any way out of the mess she creates when sleeping with him? The neighbor seems pretty nuts and I suspect this flick just devolves quickly. I guess it may be a good thing I'm not much at the seduction game.
PREDICTION RATING HERE, LINK IT TO ROTTEN TOMATOES PAGE
Rotten Watch Prediction
I know, I know. It's weird to see Johnny Depp not draped in scarves, or lathered with severe face paint. You don't feel comfortable when the guy isn't acting super affected and living in some kind of weird fantasy. Our Johnny Depp reality has become a rather unreality. He no longer seems like 100% a human being, but rather a living embodiment of a Hollywood studio's costume department. And yet we have him here wearing only a handlebar mustache and odd accent. The guy is halfway back to being human again. Kudos.
Get the rundown on Mortdecai by watching the trailer below
Mortdecai is based on the comic novels of the same name about a dude who solves art mysteries. Depp plays the titular character, who most people (from the trailer) presume to be a dolt. I'm not exactly certain what this flick is about. The trailers, and even the synopsis aren't totally clear on this, except that it's a mystery and Mortdecai needs to find out something. What this mostly seems like is just another run of the mill Johnny Depp vehicle (with some other familiar faces attached).
Director David Koepp has worked with Depp before on Secret Window (46%) and most recently delivered the surprise critical success Premium Rush (76%). I suppose this new movie could work well with critics, mostly because it doesn't seem overlty horrible right from, ahem, Jump Street. But I'd be shocked if it blew it out of the box. No reviews are in yet (bad sign) and it just appears rather bland all things considered. The players are appealing, and it might have its moments of levity, but I worry there isn't much substance. Hey, at least Depp is recognizable.
PREDICTION RATING HERE, LINK IT TO ROTTEN TOMATOES PAGE
Rotten Watch Prediction
If you want to know what Strange Magicis about, you've come to the wrong place. In fact, if you want to know what the story is about, I'm not really sure there is anywhere you can go to find out. Every synopsis I read basically says something like "Goblins, elves, cool music, potion." That's all I can figure out. And if you can't give me the elevator pitch through words or a trailer, well then we might be in a bit of trouble.
See if you can figure out what Strange Magic is all about watching the trailer below:
Strange Magic is brought to you by Lucasfilm Animation, the studio whose only other feature film is Star Wars: The Clone Wars (18%). This isn't a great sign. I'd be happy to overlook this (well, not really, but I'll humor you) if it weren't for this flick's trailer that makes absolutely no sense. Just when you think you're about to get a taste of the story, an elf starts dancing. Then a bunch of weird stuff happens and someone starts dancing again. It's nonsensical.
Animated films can go in a couple of different directions, and there have been some great ones, of course. I have a feeling this will not be one of them. If you can't tell me the story or the general conceit in a concise way, then there's a good chance the whole film doesn't really know what it wants to accomplish. I'm nearly certain that's the case here, as a bunch of random ideas appear thrown up on screen without much thought to how they all mix. The critical track record from the studio doesn't help, and this one might be headed for the basement.

This poll is no longer available.

All in all, last week was a strong one for the Rotten Watch. To start, Blackhat (Predicted: 37% Actual: 32%) scored in the bottom third as predicted. As Eric pointed out in his review, it's awfully tough to make a movie about cyberterrorism because the acts of sabotage usually revolve around guys and girls sitting around punching a keyboard. It would take a substantial amount of action to overcome the cause, and Blackhat didn't quite get there. It was a critical mess, and goes to show you need a lot more than 1's and 0's to make a cool hacker movie.
Meanwhile, I had a head start on Paddington (Predicted: 95% Actual: 98%), so I can't take full credit there. A bunch of review were already in for this film as it was released earlier in the UK. I didn't need to do a whole lot of work with the prediction, not that I'm complaining. Mike Reyes called it one of the best family films since Hugo in his review. I don't think anyone would have predicted a score this high sight unseen.
Finally, The Wedding Ringer (Predicted: 15% Actual: 33%) was a bit better than I expected. I really would have put good money on this ending up really close to the basement, as it just looked so freaking stupid. But as Sean points out in his review, the story is wrecked, but there are moments of funny that save it from being a complete and total mess. I suppose that's to be expected, as Kevin Hart is a decently funny dude. But this score was much higher than I expected.
Next time around we head to the loft where it's black and white with an almanac. It's going to be a Rotten Week!
Doug began writing for CinemaBlend back when Terminator: The Sarah Connor Chronicles actually existed. Since then he's been writing This Rotten Week, predicting RottenTomatoes scores for movies you don't even remember for the better part of a decade. He can be found re-watching The Office for the infinity time.
Your Daily Blend of Entertainment News
Thank you for signing up to CinemaBlend. You will receive a verification email shortly.
There was a problem. Please refresh the page and try again.