This Rotten Week: Predicting Hansel & Gretel: Witch Hunters, Movie 43 And Reviews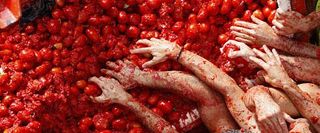 The winter movie season is picking up steam. (One thing I love about writing this column is I can always start off with the (fill in the blank) movie season and be somewhat correct. Just another reason movies are the gift that keeps giving.) This week we've got some kids hunting for witches, ensemble casts and Statham just kind of doing the same thing he always does.
Just remember, I'm not reviewing these movies, but rather predicting where they'll end up on the Tomatometer. Let's take a look at what This Rotten Week has to offer.
Hansel and Gretel: Witch Hunters
It's a fairy tale resurgence! Man fairy tales are so f@#$ing hot right now. They're like #Yolo and Instagram combined. With a perfect combination of dwindling creative expectations in Hollywood and having no obligation (I'm assuming) to pay royalty fees to the long dead Grimm brothers, modern revamping of fairy tales seems the way to go. We've already covered Snow White (Mirror, Mirror-50%, Snow White and the Huntsman-48%), Little Red Riding Hood (Red Riding Hood-11%), Beauty and the Beast (Beastly-20%), along with the upcoming Jack the Giant Slayer and television shows like Grimm and Once Upon a Time just delving into the genre as a whole. It's an exciting time if you are the kind of dope that likes fairy tales.
In an effort to capitalize on this mindless rebranding of stories no one in modern society really cares about anymore I'm considering a couple of movie pitches for fairy tale movies. Tell me what you think:
Fairy tale (Possible working titles) - Quick plot points
Three Little Pigs (Wolf or A House of Brick) - Psycho killer on the loose, stalking three brothers, the last one a hardcore militia type who's booby trapped his house to fend off the killer. Think R-rated Home Alone.
Goldilocks - (Just Right) - Young female thief hired to take down a mansion only to find herself wanting to become part of the somewhat dysfunctional family. In robbing the house she becomes "attached" to the family's young child through pictures and diaries.
Puss in Boots (Puss'n Boots) - Porno flick
In this latest modern look at fairy tales Jeremy Renner and Gemma Arterton are the titular characters armed with an assortment of nifty, futuristically-retro weapons and on the hunt for the witches lurking in the woods around whatever small village they live. Directed by Tommy Wirkola (Dead Snow-66%), the movie looks like it wants desperately to interweave comedy and action while "updating" a dated story. Frankly, it looks fairly dumb. Studios should go with one of my ideas instead. The Rotten Watch for Hansel and Gretel: Witch Hunters is 45%
It's a cast of thousands! Well not quite, but it might as well be. The ensemble cast, loosely connected storyline, comedy can be fraught with critical peril. Sure you've got the Love Actually's (63%) of the world that not only didn't get lost in the tangle of famous faces, but also somehow is gaining steam as a go-to Christmas movie. But then other holiday pieces of s@#$ like Valentines's Day (18%) and New Years Eve (7%) even out the ensemble goodwill. So who knows what to make of these movies?
Granted, Movie 43 appears a very different flick than those mentioned above both in it's wider scope and Farrelly brothers brand (Peter Farrelly spearheaded the production) of off-color humor and dick//fart/poop jokes. So again, I'm confused.
Typically I spend this time discussing the director, or some of the key players but honestly, that's a fools errand with this movie. To get the breadth and scope of the players involved just take a gander at the film's Wikipedia page. Look at that list! More than twelve directors, literally a cast of thousands and Gerard Butler as a testicle-biting leprechaun. I mean what do you want from me here? On the surface I'd say this movie has bit off more than it can chew simply from a logistical standpoint. With this many moving parts, visions, and writing styles I'd say putting together a coherent flick is next to impossible. On the other hand, the home-schooling parents as typical bullying teenagers and Terrence Howard-as-basketball coach arcs look worth it on their own. I have a feeling there will be aspects and performances that work well independently, but asking the whole movie to stick as a collective unit is almost too difficult a landing to stick. I'll put it right at the middle and cross my fingers. The Rotten Watch for Movie 43 is 50%
You don't write a column like this for a couple of years without getting a chance to poke fun at Jason Statham. I've covered his bloody, revenge-taking, wiseass, high body count career plenty here, in this one, and way back in the early days of This Rotten Week. Statham is just too easy a mark, but the good news is I think he knows it. He's been typecast in the best way possible and he's scowling all the way to the bank.
I don't want to shock you, but in this new flick Statham plays a snarky bloke out for revenge against some bad guy who's wronged him. The left him for dead, which about the last thing you want to do with Jay. He then gets to do usual Statham things like kill any person who stands in his way, rock the shaved head/ five o'clock shadow look (I employ something similar to slightly less fanfare), crack one liners, stare at J-Lo. You know, basically the same thing he does all the time. Is it even worth going back through his resume? We all know what's going on here.
Director Taylor Hackford (a guy who received some Oscar nominations with Ray -81% and used that collateral to follow up with something called Love Ranch-12%) now gets to handle Statham which is probably about the easiest gig in Hollywood. Just give him a gun and a vendetta and stay the f@#$ out of the way. The Rotten Watch for Parker is 38%
This poll is no longer available.
Recapping last week:
The good times continue to turn in endless rotations (or however that saying goes). Another strong week for the Rotten Watch starting with Last Stand (Predicted: 64% Actual: 57%). Full disclosure: I had this flick slightly higher, in the low seventies, but editor du jour Katey Rich talked me down a little bit. And its a good thing she did. Hey, this thing's a team effort. Usually it's just me as the starter, team captain and MVP, but occasionally someone comes in off the bench to hit the game winner. Katey stepped up big.
Meanwhile, Mama (Predicted: 67% Actual: 64%) was another booyah. This one has an outside shot of being a direct hit with a few more reviews. 2013 might just be my year.
And finally, my sentiments about Broken City (Predicted: 48% Actual: 25%) were on the mark, I just didn't think it would dip this low. Not with guys like Russell Crowe and Mark Wahlberg on board. It never really looked good, but in the bottom quarter on the Tomatometer is dipping into toilet.
Next time around we take a bullet to the head, meet some stand up guys, and follow some warm bodies. It's going to be a Rotten Week!
Doug began writing for CinemaBlend back when Terminator: The Sarah Connor Chronicles actually existed. Since then he's been writing This Rotten Week, predicting RottenTomatoes scores for movies you don't even remember for the better part of a decade. He can be found re-watching The Office for the infinity time.