This Rotten Week: Predicting The Hunger Games: Mockingjay - Part One Reviews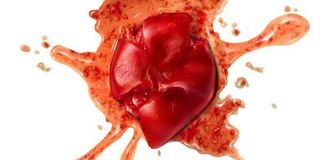 Some weeks a ton of movies come out and they all stink. And then some weeks only one gigantic flick hits the big screen, and that's all we need. This week falls into the latter category. We are headed back to the world of Panem where Katniss leads a revolution.
Just remember, I'm not reviewing these movies, but rather predicting where they'll end up on the Tomatometer. Let's take a look at what This Rotten Week has to offer.
POSTER HERE, LINK IT TO PREVIEW PAGE
PREDICTION RATING HERE, LINK IT TO ROTTEN TOMATOES PAGE
Rotten Watch Prediction
I don't know if it was the way I read the book, or my own malfunctioning imagination, or possibly my inability to properly conceive of the entire world Suzanne Collins created in Panem, as I got stuck in the micro relationships and conflicts without fully grasping the macro, full, expansive world beyond Katniss, Peeta, Gale and company, but man, these Hunger Games movies are just nothing like I pictured when I read the novels. It's really thrown me for a loop. Even Jennifer Lawrence-as-Katniss is nothing like I pictured her. And unlike Harry Potter, for example, where I shifted my vision to fit what the movies threw out there, I haven't quite cleared the hurdle with this franchise. It's affected the way I watch the movies and has me thrown off again leading into these final two.
See the beginning of the end in the trailer for The Hunger Games: Mockingjay - Part 1,
It doesn't help that I thought the final book petered out at the end. The great lengths to which Collins had gone to in order to create this layered dystopia and troubled heroine were submarined to some degree by a final act that had me asking, "What the hell is going on here?" more than one probably should at the end of a gripping page-turning set of novels. And though I didn't think it'd crush the way the collective movie-watching community would see these final flicks, it does have me a little concerned.
But this is just one (superior) man's opinion and the early reviews for Mockingjay Part 1 are more than positive, falling in line with previous two movies (The Hunger GamesThe Hunger Games Catching Fire - 89%). It's a great series of movies and looks to be finishing strong. Maybe this penultimate chapter just needed a big screen adaptation for me to truly enjoy it.
Director Francis Lawrence ( Water for Elephants - 60%, I am Legend - 70%) knows a thing or two about book-to-big-budget-film adaptations, his two latest being his best. It appears as though no expense was spared in the filming The Hunger Games: Mockingjay, even splitting it into two parts to make sure nothing got short shrift. That's probably important considering the book felt rushed and off kilter down the wire. Hey, that's why movies were invented though. To cure the mistakes of books. Right?
Panem in the movie adaptations is the big world I had trouble seeing in the books. This film looks big, bold and a great way to start wrapping it all up. When Little Rotten Week is old enough, I'll probably just tell her to read the first two books and watch the movies instead of reading the third.

This poll is no longer available.

Last week was a super solid one for the Rotten Watch, as I nailed both predictions. I didn't want to be right about Dumb and Dumber To (Predicted: 29% Actual: 27%), having loved the original, but alas, this one stunk. It stood to reason that recreating something that probably shouldn't have worked in the first place wouldn't necessarily end well. It didn't, and critics hated the idiotic reunion of the two biggest morons in history. This prediction was right on the money, as one could tell even from the trailer that some of the beats were way off in this flick. What a shame.
Meanwhile, Beyond the Lights (Predicted: 81% Actual: 84%) stood strong over the course of the week, landing my prediction right in the zone. Honestly, this one was a situation where it paid to have a head start. I don't think, sight unseen, that I'd have predicted it anywhere close to this number. But sometimes we get an assist and that's all we need.
Next time around the horrible bosses are back and penguins make a comeback. It's going to be a Rotten Week!
Doug began writing for CinemaBlend back when Terminator: The Sarah Connor Chronicles actually existed. Since then he's been writing This Rotten Week, predicting RottenTomatoes scores for movies you don't even remember for the better part of a decade. He can be found re-watching The Office for the infinity time.
Your Daily Blend of Entertainment News
Thank you for signing up to CinemaBlend. You will receive a verification email shortly.
There was a problem. Please refresh the page and try again.