This Rotten Week: Predicting Jonah Hex And Toy Story 3 Reviews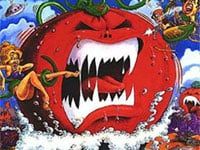 This week is all about cowboys. One looks ridiculous, tells corny jokes, has a bunch of little gadgets to play with and is someone only a stupid kid could appreciate. And the other is Woody from Toy Story. Jonah Hex and the crew from Toy Story hit theaters with expectations pretty high for one and well, as you'll see below, I don't have any idea what to think of Mr. Hex.
Let's take a look at this Rotten Week in movies.
Toy Story 3
The Toy Story franchise is perfect. I know what you're thinking, "Sure Doug, it's a nice series of movies, but perfect? Nothing is perfect." Wrong. After the first two installments, more than $800 million in box office sales, and 215 reviews, the Toy Story fellas don't have one blemish on their record. The whole franchise has an unheard of 100% Tomatometer score. Consider that for just a second. No one person, at least in the movie world, has a bad word to say about Toy Story. Why start now right?
The Pixar track record is about as good as a studio can get and the recent additions of Up (98%), Wall-E (96%), and Ratatouille (96%) help keep the resume strong. But the Toy Story movies are the real jewel of the bunch. The original tale of Woody and Buzz was Pixar's first, the first film to use CGI, and it ushered in a set of animated films that appeal to both kids and adults. Really anyone can watch, and come away pleased. I laughed out loud two or three times just in the trailer.
Typically, sequels (or really any movie beyond the first) suffer from some sort of dip in reviews (I'm looking at you Shrek). But not Toy Story. They haven't missed a beat, with Buzz and Woody just as relevant and enjoyable as they were fifteen years ago. It's amazing really. Toy Story 3 just looks to be more of the same awesomeness. Andy heads to college and the toy crew heads to a local preschool for a last chance to get played with. The jokes are still fresh and animation is first rate. Third time will continue the charm. The Rotten Watch for Toy Story 3 is a historical 100%.
Jonah Hex
Who else watched this trailer and immediately thought back to Will Smith walking around in the wild, wild, West with all his little cutting edge western weapons, stupid dialogue, and non-existent storyline? In fact, after further examination, the two movies look almost exactly the same. I want Josh Brolin to do some kind of crossover, pop song called "Jonah, Jonah Hex." Here are some lyrics:
If you have a riff with Johnny Malkovich
Break out before Megan Fox turns into a bitch (Jonah, Jonah Hex)
When I roll with (Jonah, Jonah Hex)
When I stroll in with (Jonah, Jonah Hex)
When I bounce around with (Jonah, Jonah Hex)
Look, Jonah Hex's critical chances aren't all bad. Josh Brolin has been in some great movies of late, Malkovich is always great on screen, and as far as Megan Fox is concerned, well at least Michael Fassbender is in it. I don't think the whole affair will be like watching Will Smith ride around in a steam powered tank, but it doesn't look far off does it? Director Jimmy Hayward has one movie on his resume in Dr. Seuss' Horton Hears a Who so it's tough to gauge how he'll handle a comic book adaptation with real live actors. Judging from the trailer, I don't love his chances. The Rotten Watch for Jonah Hex is 39%.
Swipe to scroll horizontally
This poll is no longer available.
Recapping last week. It was another good run for the Rotten Watch. The Karate Kid was right on point (Predicted 64%, Actual 69%) with Jackie Chan channeling his inner Miyagi. Meanwhile The A-Team ended up a little closer to the middle than I suspected (Predicted 41%, Actual 52%). I was a bit off, but am glad the movie's reviews trended a little higher. Even though Katey Rich didn't love it, I still think the flick just looks like a good time.
Next week, a bunch of old comedians get together in a last ditch effort to remain relevant while Tom Cruise and Cameron Diaz ride around shooting people and blowing up stuff. It's going to be a Rotten Week!
Your Daily Blend of Entertainment News
Doug began writing for CinemaBlend back when Terminator: The Sarah Connor Chronicles actually existed. Since then he's been writing This Rotten Week, predicting RottenTomatoes scores for movies you don't even remember for the better part of a decade. He can be found re-watching The Office for the infinity time.