This Rotten Week: Predicting Source Code, Insidious, HOP Reviews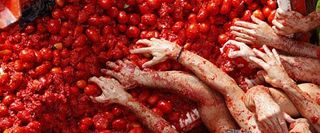 The movies are all over the place this week as Jake Gyllenhaal takes a never-ending train ride, the Easter Bunny gets his chance on the big screen and another kid haunts another house.
Just remember, I'm not reviewing these movies, but rather predicting where they'll end up on the Tomatometer. Let's take a look at what This Rotten Week has to offer.
Source Code
Ever wonder what it would be like to wake up in the body of someone else and take that person's identity? Well I do all the time and usually the person whose body I'm inhabiting in my daydreams is Jimmy Buffett. Margaritas, sun, flip flops. Man that guy lives the life, huh?
In Source Code Jake Gyllenhaal isn't nearly as lucky. He wakes up to find himself on a soon-to-be-exploding train inside the body of a some random guy who thankfully (and this might be the only upside) has a hot friend in Michelle Monaghan. He has eight minutes to find out who made the choo-choo go boom boom.
The Source Code is actually a government experiment that somehow puts its users into the body of another person, but only during the last eight minutes of his or her life. (Why not nine minutes? Why not twenty? This is actually the question I want to learn the most. Seems so arbitrary.) Gyllenhaal is channelling his inner Bill Murray in Groundhog Day as he lives those eight minutes over and over and over again.
By most accounts, director Duncan Jones (Moon-90%) gets this flick right. Early reviews have it as a fairly tight thriller with more than enough action, suspense and questions to go around. That being said, some industry buzz has critics not loving the movie top to bottom which could trend the score a little lower as more reviews roll in. The Rotten Watch for Source Code is 74%.
HOP
I am sure that at some point, there was a discussion somewhere deep in the bowels of Hollywood that went something like this:
And I imagine that, my friends, is how a movie like HOP gets madet. I'll spare you the moronic details. Well no I won't, they're just too stupid to not mention. It's about a bunny destined to become the spring version of Santa, except he wants to become a drummer instead. So he sets out for Hollywood… ah nevermind, it really is too idiotic. The Rotten Watch for HOP is 29%.
Insidious
Fan(s) of this column know a few things about me: I'm incredibly good looking. I'm a relentless tyrant around the RW offices. I enjoy a nice glass of Montrachet 1978 every once in awhile. And I really don't like scary movies. Like at all. They keep me up for weeks. Hell, just the trailer for Insidious is probably good for a nightmare or two.
What is it about possessed kids and haunted houses that just ramp up the terror level? In Insidious, director James Wan (Saw - 48%, Saw IV - 17%, Dead Silence - 20%) takes us through the lives of a couple of parents whose kid has fallen into a coma-like state and picked up a demon somewhere in limbo. And now that demon is f#$%ing life up for everyone. The only person who can stop it is Magda from There's Something About Mary. (Maybe the scariest character of all-time).
Normally, I would rank this film fairly low, thanks Wan's track record and the idea that thrillers don't generally rate well with critics. But early Insidious reviews are already in they're pushing up my score. I don't think it continues chugging along at its current 70%, but that's a strong start. The Rotten Watch for Insidious is 63%.
This poll is no longer available.
Recapping last week
I thought about going through a whole paragraph using various play-on-words with "suck" to describe this Sucker Punch (Predicted: 63%, Actual: 20%), but decided against it to avoid giving the whole production more attention than it deserves. Zack Snyder probably wants a do over after critics just crushed his latest for being a hodgepodge of effects with no discernible plot or focus. Let's hope he doesn't mangle Superman the same way.
Meanwhile, Diary of a Wimpy Kid: Rodrick Rules (Predicted: 40% Actual: 40%) was the first dead-on prediction of the year. It won't be the last, but this one feels good. Keep those books coming Jeff Kinney!
Next week, Aldous Snow plays a billionaire, surfing gets dangerous, Cate Blanchett goes assassin, and James Franco gets medieval. It's going to be a Rotten Week!
Doug began writing for CinemaBlend back when Terminator: The Sarah Connor Chronicles actually existed. Since then he's been writing This Rotten Week, predicting RottenTomatoes scores for movies you don't even remember for the better part of a decade. He can be found re-watching The Office for the infinity time.
Your Daily Blend of Entertainment News
Thank you for signing up to CinemaBlend. You will receive a verification email shortly.
There was a problem. Please refresh the page and try again.