Russell Brand Confirmed As Lonny In Rock Of Ages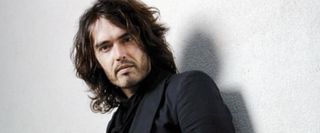 Even though he didn't quite pull off having the #1 and #2 movie at the box office last weekend-- Hanna pulled ahead of Arthur at the last minute, with Hop up at #1-- Russell Brand has once again earned consideration as an actual movie star. And next he'll be bringing that starpower to the already crowded cast of Rock of Ages, the movie adaptation of the hair metal Broadway musical that Hairspray's Adam Shankman is directing. Rumor had it back in January hat he might join the cast, and now Shankman himself has confirmed on Twitter that Brand has indeed signed on.
As rumored Brand will be playing Lonny; thanks to the Rock of Ages Wikipedia page, which I have worn out trying to piece together this lengthy casting process, I've learned that Lonny is the narrator of the stage play, and works at the rock club that's central to the narrative, the Sunset Strip-based Bourbon Room. He's the right hand man to the club's owner Dennis Dupree, played by Alec Baldwin in the movie; yes, the world will soon be blessed with a duet between Alec Baldwin and Russell Brand as they sing REO Speedwagon's "Can't Fight This Feeling" and confess their true feelings for each other. Apparently it's all part of some hilarious joke. Yeah, the nuances get lost on Wikipedia sometimes.
This probably goes without saying, but though Amy Adams at one point was in the running for a major part, Deadline says her Superman shooting schedule has gotten in the way. Production on Rock Of Ages, with Tom Cruise, Julianne Hough, Diego Boneta, Mary J. Blige and Paul Giamatti also starring, starts later this spring.
Your Daily Blend of Entertainment News
Staff Writer at CinemaBlend