Ryan Murphy To Remake The Town That Dreaded Sundown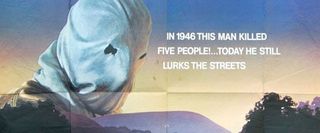 Much like the monsters and serial killers at their cores, horror movies never die. The genre is mined again and again for low-budget source material that can get a glossy new coat of buzz and blood but attaching some new horror luminary to its remake. And this is precisely what is happening to the lesser-known tale of terror The Town That Dreaded Sundown.
Said to be inspired by a real rash of killings that plagued the residents of Texarkana in the 1940s, the film played out in a documentary style that is credited as a precursor to horror's found footage movement. The movie was a personal favorite of American Horror Story co-creator Ryan Murphy growing up, and now he and Jason Blum, the prolific producer behind horror flicks like Paranormal Activity, Insidious and Sinister, are in preproduction on a remake with MGM.
THR reports that Roberto Aguirre-Sacasa, who penned Kimberly Peirce's upcoming Carrie remake, scripted the new The Town That Dreaded Sundown, which will aim to keep true to the original's gritty aesthetic by means of a low budget and cinema verite style, while adding a dash of procedural drama in the vein of David Fincher's Zodiac. Murphy revealed at a recent press screening for American Horror Story's second season, "I went to (Blum) with this and MGM was gracious enough to let us do it with them. So we're doing a modern-day version remake, weird meta thing with (it)."
Check out the trailer for the original below:
With Murphy prepping to helm Normal Heart, he and Blum have entered into talks with Alfonso Gomez-Rejon, who has helmed several episodes of American Horror Story, to direct. With The Town That Dreaded Sundown expected to go into production this spring, this would mark Gomez-Rejon's feature directorial debut should he sign on.
Staff writer at CinemaBlend.
Your Daily Blend of Entertainment News
Thank you for signing up to CinemaBlend. You will receive a verification email shortly.
There was a problem. Please refresh the page and try again.