Ryan Murphy's The Normal Heart Movie Officially Headed To HBO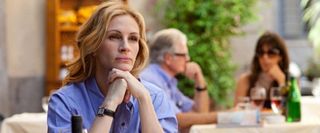 It's official: the Ryan Murphy-directed adaptation of the Tony-award winning Larry Kramer play The Normal Heart is coming to the small screen instead of the big one. HBO is going forward with the project, originally conceived as a feature film, which will star Julia Roberts, Mark Ruffalo, and White Collar's Matt Bomer.
The Normal Heart tells the story of the early days of the HIV/AIDS epidemic in New York City. Julia Roberts will play a paraplegic doctor named Emma Brookner. She treats some of the first patients of the mysterious new disease. Mark Ruffalo will be playing Ned Weeks, who watches as the epidemic begins to claim friends in the gay community and undertakes an investigation into it. Bomer will be playing Weeks' lover Felix Turner who is also a reporter.
The Normal Heart premiered at the New York Public Theater in 1985 and was revived on Broadway in 2011, winning several Tony Awards including one for Ellen Barkin in the role now being taken on by Julia Roberts. That same year Ryan Murphy optioned the play for a feature film to be produced by Brad Pitt's Plan B Productions with Ruffalo starring. Early in 2012 the project added Roberts and Bomer, and also tapped Alec Baldwin and Jim Parsons for roles. Although we started to hear rumors that it might go the HBO route back in November, Deadline has official word today that it is in fact the case.
Two of the stars have worked with Murphy in the past, Roberts on the book adaptation Eat, Pray, Love, and Bomer who appeared on Murphy's series Glee. Ruffalo recently played Bruce Banner (The Hulk) in The Avengers and is said to be returning for the sequel. The HBO movie is set to start production later in 2013 and will air in 2014.
Your Daily Blend of Entertainment News