Ryan Reynolds, Bradley Cooper And Their Dads Team Up As Cops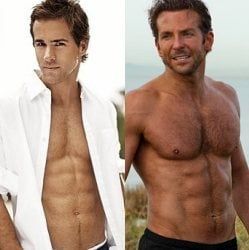 If they were both a little less famous, or if I paid a little less attention to pop culture, I would have a really hard time telling Ryan Reynolds and Bradley Cooper apart. They're both Hollywood hunks famous for nice abs and big smiles, both married to or dating famous women (Scarlett Johansson for Reynolds, Renee Zellweger for Cooper), and both balance comedy with action-heavy roles. You can bet they're up for a lot of the same roles, if not constantly passing by each other in the waiting rooms at casting calls.
But instead of having to pick one the other when casting your next big tentpole movie, why not get both? That's the plan for an upcoming, untitled action comedy from producers Neal Moritz, J.C. Spink and Chris Bender, which is written by Oscar-nominated Up in the Air co-writer Sheldon Turner. According to THR Reynolds and Cooper will play a pair of San Francisco cops whose fathers were also once partners; for a particularly tough case the dads come out of retirement to help their sons out, and you can just imagine how much family tension emerges from there.
The pitch has been in development before with Dwayne "The Rock" Johnson at one point in talks to play a lead role, though Reynolds and Cooper are clearly much more current choices, and a team I wouldn't mind seeing, despite the fact that Cooper's smug face typically fills me with rage after a few minutes. Reynolds especially is hugely in demand right now, attached to half a dozen projects even without the potential Green Lantern sequels in mind, so it's unclear when they'll be able to organize everyone to get this made. If this becomes yet another project that gets in the way of the Deadpool movie, I'll be able to hear the screams of the outraged nerds all the way from my apartment.
Your Daily Blend of Entertainment News
Staff Writer at CinemaBlend