SNL's Taran Killam Tapped To Star In Growing Up And Killer Rebound Guy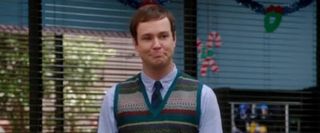 Taran Killam is a fairly recent addition to NBC's Saturday Night Live, but one expected to help fill the enormous hole left by exiting cast members Kristen Wiig, Andy Samberg and (possibly) Jason Sudeikis. Killam has been great in his two years on the sketch comedy show so far and before returning for extra responsibilities this fall, he's lined up a few impressive feature film roles. The actor recently landed a supporting role in Steve McQueen's Twelve Years A Slave opposite Chiwetel Ejiofor, Michael Fassbender and Brad Pitt (oddly enough, one of Killam's impressions) but first he'll appear in two smaller films.
Variety reports that Killam is set to star in Danny Jacobs and Darren Grodsky's new movie called Growing Up (and Other Lies). From the writer-directors of Humboldt County), Growing Up is a comedy about four friends who make a pact to walk the length of Manhattan together before one of them plans to move out of NYC. Killam plays the mover, an artist who plans on going home to take of the family business, but only after he and his buddies traverse the island. Amber Tamblyn co-stars as his ex-girlfriend who's recently back on the market which could potential gum up the plans.
After Growing Up, the actor has a role in Killer Rebound Guy, the feature debut of "Funny or Die" directors Matt Villines and Osmany Rodriguez. The article notes that Killam himself is no stranger to "FoD," having been featured in a few sketches, and therefore makes a nice fit for the first time filmmakers making the transition. Killam joins Happy Endings' Adam Pally (hilarious!) in KRG, which follows the latter's lazy bartender, who is trying to convince everyone that his ex-girlfriend's new 'rebound guy' is actually a serial killer. Killam plays the new boyfriend, possible murderer and antagonist to Pally, all of which sound great.
Your Daily Blend of Entertainment News
Thank you for signing up to CinemaBlend. You will receive a verification email shortly.
There was a problem. Please refresh the page and try again.