Sacha Baron Cohen Becoming An Ambulance Chaser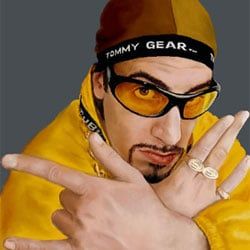 Sacha Baron Cohen is a self-made man, the kind of guy that we all strive to be. He has a hot wife. He has an amazing job. And he uses his job to rebel against whatever establishment is dumb enough to let him film them. He's a great writer, an underrated actor, and now he's the owner of a production company.
According to Variety, Cohen formed a production company named Four By Two Films. He'll use the company as an outlet for scripted vehicles for himself, two of which are already planned. Columbia purchased the first, which will be scripted by Cohen and his writing team from Borat and Bruno.
The second will be released via Universal and is titled Accidentes. Written by Pete Baynham, the movie will have Cohen playing an ambulance-chasing lawyer who becomes an unlikely hero of the working poor after he wins a case against a corrupt landscaping company. Being the all-around great guy that he is, Sacha will produce both films.
It seems as though Sacha Baron Cohen's days as a live method actor are done, as he'll be focusing primarily on scripted movies for now. That's not a bad thing at all, unless of course he wants to go down the Tom Green road. Then again, this production company may be a cover for his REAL next film. Maybe we should still watch our words around naïve documentarians.
Your Daily Blend of Entertainment News
Thank you for signing up to CinemaBlend. You will receive a verification email shortly.
There was a problem. Please refresh the page and try again.