Sacha Baron Cohen's New Look For Spy Comedy Grimsby Leaked By Eric Idle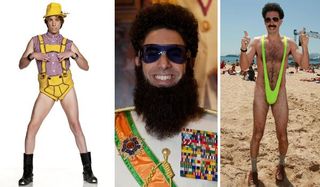 Monty Python member and comedy legend Eric Idle is fond of sharing pictures of himself and his friends on his Twitter account. Today, one of Idle's impromptu pics proved newsworthy as the self-proclaimed sillographer revealed our first look at Sacha Baron Cohen in his Grimsby hair and makeup. Check it out above:
Written by Sacha Baron Cohen, Phil Johnston, and Peter Baynham, Grimsby stars the outrageous English comedian as the screw-up soccer hooligan brother of one of the United Kingdom's greatest secret agents, played here by Mark Strong. The two are forced to pair up in an unusual assignment, and presumably sparks fly and hilarity ensues.
In the pic above, it's hard to tell how much of this getup is official costume or just casual Cohen. But that unfortunate haircut and muttonchops pairing seems to fall in line with the performer's penchant for outlandish and awkward character looks.
Lest we forget. Let's take a quick walk down memory lane.
Ali G, gangsta-stylin as ever:
Borat, seen here wearing his famous "bathing suit":
Bruno, making love to the camera:
The Dictator, giving an address:
And of course Les Miserables' Thénardier, just chilling:
Grimsby is now in production. Its cast also includes Ian McShane, Gabourey Sidibe, Scott Adkins and Rebel Wilson. Louis Leterrier (Now You See Me) directs. Grimsby is slated to open in the U.S. on July 31st, 2015.
Your Daily Blend of Entertainment News
Staff writer at CinemaBlend.
Your Daily Blend of Entertainment News
Thank you for signing up to CinemaBlend. You will receive a verification email shortly.
There was a problem. Please refresh the page and try again.