Sam Shepard Joins August: Osage County In Small But Crucial Role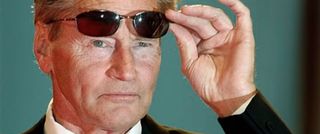 Because the main action of Tracy Letts's play August: Osage County revolves around the disappearance of family patriarch Beverly Weston, it's not much of a spoiler to tell you that's a tiny role. But Beverly gets one big monologue at the beginning of the play before the other members of his family-- namely his wife Violet and daughter Barbara-- take center stage, and that means the movie adaptation needs to cast an excellent actor to play him. The cast of the movie version of August: Osage County is already crammed full of heavy hitters, but now they've managed to add one more, with Sam Shepard signing on to play Beverly.
That news comes from Variety, where they note that production on the film-- with The Company Men's John Wells directing from Letts's own script-- is set to start next month. Shepard will be one of may boldface names in the cast, which is led by Meryl Streep as pill-popping matriarch Violet, and Julia Roberts as eldest daughter Barbara, who clashes with her mother after returning home during her father's disappearance. Juliette Lewis will play the youngest daughter Karen, Margo Martindale and Chris Cooper will play Violet's sister and brother-in-law, with Benedict Cumberbatch as their quietly suffering son. Abigail Breslin plays Barbara's rebellious teenage daughter, and Variety reports that Dermot Mulroney has joined the cast, though it's unclear which role he'll play-- maybe Karen's scummy boyfriend Steve? Or maybe Barbara's estranged husband Bill?
August: Osage County ran for years on both Broadway and London's West End, and won the Tony and the Pulitzer; it's a tremendous, fiercely entertaining and thoughtful play, which makes it no surprise that it's attracted such a stellar cast. The only question is how Letts has managed to condense his sprawling three-hour play into a two-hour-ish film, and whether Wells-- a fine director on episodes of ER, but a little inexperienced in features-- can wrangle it all together. You can likely expect to find out for yourself next fall, as August: Osage County will almost certainly be an Oscar contender next year.
Your Daily Blend of Entertainment News
Staff Writer at CinemaBlend