Sandra Bullock Could Team With The Help's Director For Tupperware Movie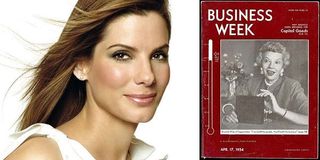 If Peeps are getting a movie, why not Tupperware? Okay, so the in-development drama from Tate Taylor isn't actually about animated leftover storage. Instead, the director of The Help is gearing to make a biopic about Brownie Wise, a sales exec with a complicated past in the Tupperware company. And he wants Sandra Bullock to host this onscreen Tupperware party.
THR reports Sandra Bullock has expressed an interest in starring in Tate Taylor's currently untitled Tupperware project, but is not yet officially attached. As Bullock circles, Mandeville's David Hoberman and Todd Lieberman are currently packaging the project to pitch it to studios. At the top of their list is Disney, with whom the production company has a production deal. This Untitled Tupperware Drama sounds like it could play to Disney's soft spot for biopics about unconventional tales of success, like Saving Mr. Banks and the upcoming Million Dollar Arm.
Brownie Wise earned a reputation as a pioneer of salesmanship thanks to her concept for Tupperware parties. Not only did these parties prove a savvy sales strategy for Tupperware, but also it enabled uneducated women in the 1950s a unique and needed earning opportunity. The success of the Tupperware Party made Wise a celebrity, transformed her Orlando offices into a tourist attraction, and earned her the honor of being the first woman ever to appear on Business Week's cover. But Wise's is not an entirely happy story.
Brownie Wise dealt with personal and professional problems. Her abusive, alcoholic ex-husband stalked her. And at the height of her fame, Tupperware abruptly fired her under mysterious circumstances, and subsequently attempted to revise their history to make her seem less crucial to the company's accomplishments.
This shocking story was uncovered in the nonfiction book by journalist Bob Kealing, Tupperware Unsealed: Brownie Wise, Earl Tupper and Home Party Pioneers. Kealing investigated the rise and fall of Wise, who passed away in 1992 at the age of 79, and discovered the rotten secrets Tupperware tried to keep under wraps. Tate Taylor's screenplay for his Untitled Tupperware Drama will be based on Kealing's findings.
Based on the story, this Tupperware movie seems like a good fit for Sandra Bullock, who has a great gift for portraying characters who persevere despite painful setbacks. She did it in Gravity and The Blind Side, which won her the Academy Award for Best Actress. On top of that, Taylor should be a draw for Bullock, as his second film (The Help) led three of its stars to Oscar nominations, and a win for Octavia Spencer.
While details on this Untitled Tupperware Drama are hammered out, Tate Taylor is in post-production on his follow-up to The Help, the James Brown biopic Get On Up. As for Sandra Bullock, she's busy lending her voice to the Despicable Me spin-off The Minions, playing super-villain Scarlett Overkill.
Your Daily Blend of Entertainment News
Staff writer at CinemaBlend.