Sarah Michelle Gellar Back In Asian Horror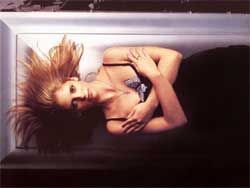 Sarah Michelle Gellar, this is getting to be a habit. Every time I see you I'm either scared or anticipating being scared. We really can't go on like this.
Gellar has been cast in yet another Asian horror import, this time Yari Film Group's Addicted, loosely based on a 2002 Korean horror movie called Jungdok. Just to make it a little more international, it's being directed by a Swedish directors Joel Bergvall and Simon Sandquist. The screenplay will be written by Michael Petroni, who sounds a little bit Italian.
Variety says the story for this thriller is all about comas. The husband and brother-in-law of Gellar's character end up in coma after a bad accident. Surprise! When the brother-in-law wakes up he claims he's really her husband, not that other guy still asleep over there. And why not? All his bits and pieces work.
The lovely Sarah Michelle can be seen later this year in The Return and The Grudge 2. Place your bets on how long she lives in Grudge 2 now. From the trailers it doesn't look long.
Your Daily Blend of Entertainment News
Thank you for signing up to CinemaBlend. You will receive a verification email shortly.
There was a problem. Please refresh the page and try again.