Saw Creators Team Up With Paranormal Producers For More Low-Budget Horror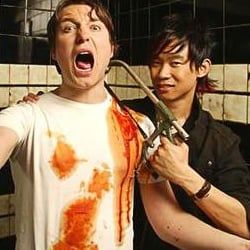 When James Wan and Leigh Whannell kicked off the Saw franchise, they must have been pretty proud of themselves-- making a horror movie for virtual pennies, throwing in a few cool and intellectual tricks, and making themselves millionaires.
But given where the franchise has gone from there, and the fact that Wan and Whannell dropped out after the second film, don't you think they're a little ashamed of themselves? That's the message I'm taking, at least, out of the news that the two have teamed up with Paranormal Activity producers Oren Peli, Jason Blum and Steven Schneider to director low-budget horror pic Insidious. Variety reports that the film will be the first in a five-picture deal that the producers set up with Alliance FIlms, with an aim to make low-budget genre pictures not unlike the cheap ghost story that made Peli, Blum and Schneider very famous a few months back.
No word on exactly what Insidious will be, other than that Wan is directing the script by Whannell. Wan told Variety the appeal of working with the producers was "their passion for genre films and having the creative control to make auteur-driven pictures." Yes, one of the creators of Saw just dropped the word "auteur." There are definitely some changes afoot.
Your Daily Blend of Entertainment News
Staff Writer at CinemaBlend