Scarlett Johansson Will Become A Lovable Computer In Spike Jonze's Her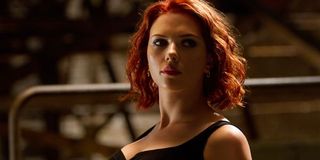 In normal love stories, the person you cast as one-half of the couple is going to be in the movie the entire time. Spike Jonze movies don't tend to be normal anything, though, and in advance of the November 20 release of his new film Her, he's done the highly unusual: recasting the lead female role, months after shooting wrapped.
It helps, of course, that the female love interest is just a voice, the Siri-like computer operating system who captures the heart of a lonely writer played by Joaquin Phoenix. Samantha Morton had been set to provide the computer's voice, but Jonze has confirmed to Vulture that Morton's work has been replaced by Scarlett Johansson's voice. And from the sound of it, it was a tough decision for Jonze, based on the statement he gave them. Here's an excerpt:
Jonze added that "I love Samantha.I've been friends with her forever," and though there's no telling what kind of conversations the two of them have had, you probably can't apologize enough when you cut your friend from a major role in your next movie. Morton is a major talent and shone in the very trippy Synecdoche New York, but just because she's on Jonze's wavelength doesn't make her perfect for everything he does. Johansson-- an Avenger and action star-- is certainly a different kind of actress, but she'll have no lack of famous company in the cast. Rooney Mara and Lois Lane herself Amy Adams are also in the cast, though the plot description gives no indication of where other characters might fit in alongside the computer and the man who loves her.
Vulture adds the intriguing detail that Jonze will be participating in a retrospective of his work at the Los Angeles FIlm Festival this weekend, and that he might be showing clips from Her-- which, if the computer is as central a character as promised, would almost inevitably include Johansson. If you don't make it to the big event, though, you can find examples of Johansson's gorgeous, low-register voice pretty much anywhere (no, her assets are not just about her fantastic looks). I'm partial to the song "Before My Time" from the documentary Chasing Ice, which was nominated for a Best Original Song Oscar:
Staff Writer at CinemaBlend
Your Daily Blend of Entertainment News
Thank you for signing up to CinemaBlend. You will receive a verification email shortly.
There was a problem. Please refresh the page and try again.