Morgan Freeman Will Lead The Hunt For Scarlett Johansson In Lucy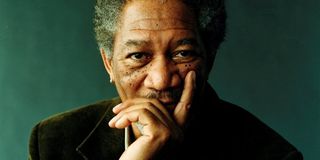 It's been 10 years since Bruce Almighty, but admit it-- you still think of Morgan Freeman as God. The actor has carried an undeniable authority for his entire career, even when he was squabbling with a prejudiced Jessica Tandy in Driving Miss Daisy, but his casting as God in Bruce Almighty somehow struck a chord-- since then it's been nearly impossible to see him in a movie without just assuming he knows everything and has the power to control the world.
Luc Besson will be getting a bit of that authority in Lucy, the thriller set to star Scarlett Johansson that now has Freeman on board to play a professor hunting down Johansson's titular character. According to The Wrap Lucy is a drug mule who becomes a super-powered ass-kicker thanks to a highly specialized drug that enters her system; even though she's able to see the future, move objects with her mind and not feel pain, Lucy is somehow also on a race against the clock to survive-- and Freeman's character is on the chase as well.
Besson produced the Zoe Saldana-led Colombiana, created Leeloo of The Fifth Element, cast Milla Jovovich as flippin' Joan of Arc and made Natalie Portman a pint-sized assassin in The Professional. You could say he knows his way around badass women, and all the credit in the world to him for continuing to craft movies around them, even though his biggest hit in recent years is the testosterone-heavy Taken (which he wrote but didn't direct). He's made a good pick with Johansson, too, since she obviously has her Black Widow experience to bring in as well. In fact, she'll be playing the roles back to back-- production on Lucy is set to start as soon as she finishes her duties on Captain America: The Winter Soldier.
As for Freeman, he's keeping plenty busy as well, having appeared in three movies already this year-- Oblivion, Olympus Has Fallen and Now You See Me-- and booking a bunch of new roles as well. Soon he'll team up with Diane Keaton for the first time for the romantic comedy Life Itself, and he's preparing to guide Johnny Depp in his transition into a supercomputer (or something) in Wally Pfister's directorial debut Transcendence. Finally, this November you can watch him yuk it up Hangover style with Kevin Kline, Michael Douglas and Robert De Niro in Last Vegas, which opens November 1 opposite Ender's Game. You can watch that trailer below, but be warned-- next time you see Morgan Freeman on screen, he might not have as much gravitas as usual. It's hard to unsee him complaining about drinking Red Bull and vodka.
Staff Writer at CinemaBlend
Your Daily Blend of Entertainment News
Thank you for signing up to CinemaBlend. You will receive a verification email shortly.
There was a problem. Please refresh the page and try again.