Rooney Mara Will Replace Carey Mulligan In Spike Jonze's New Film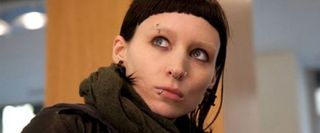 It's been 10 years since Charlie Kaufman and Spike Jonze last collaborated, on the hugely beloved Adaptation, but the distinctive writer and director are gearing up to work together again, with Jonze planning to direct Kaufman's script this year. Amy Adams, Joaquin Phoenix and Samantha Morton are already on board, and though Carey Mulligan had been circling a role for a while, she apparently can't make the schedule work, which leaves an opening that clearly can only be filled by another woman recently Oscar-nominated for her breakthrough role.
According to Variety, The Girl With The Dragon Tattoo star Rooney Mara is in final negotiations to join the film, playing an unspecified role in the story about a man who falls in love with the voice of a computer. Mara's currently at work on The Bitter Pill with Steven Soderbergh, but she'll have the time to make the move over to Jonze's movie, which should be ready to go into production fairly soon.
Mara also had Terrence Malick's new film Lawless coming at some point soon, though given Malick's habits you never really know when his films will come out, and presumably she's still on board for The Girl Who Played With Fire, the Dragon Tattoo sequel that as of January was set to shoot at the end of this year. But with David Fincher not looking all that interested in returning for Played with Fire, it wouldn't be hard to imagine that Mara wouldn't be too interested either, so she's cramming her resume full of auteur-driven films before she goes back to the grueling Lisbeth Salander role.
So what's this role that both Carey Mulligan and Rooney Mara would be up for playing? Both actresses have incredible ranges from the limited work we've seen from them, so it's fairly hard to guess. Anyone out there want to throw out some wild ideas?
Your Daily Blend of Entertainment News
Staff Writer at CinemaBlend
Your Daily Blend of Entertainment News
Thank you for signing up to CinemaBlend. You will receive a verification email shortly.
There was a problem. Please refresh the page and try again.