Scarlett Johansson's Pregnancy Not Delaying Avengers: Age Of Ultron Shoot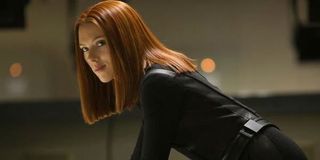 Sometimes life gets in the way. Actors have to struggle to maintain their image and visibility with fans, a task that offers many challenges as far as staying in shape, keeping active, and not over-exposing yourself. But sometimes people get injured, they change body types, they age: George Clooney credits a major back injury on the set of Syriana for why he never does action-intensive parts anymore. With actresses, those issues become even tougher because of the issue of pregnancy, and right now one of our biggest stars has a bun in the oven.
The prolific Scarlett Johansson is currently expecting a child, one of the highlights of her life, no doubt. And fortunately for movie fans, that little miracle isn't going to impede the filming of Avengers: Age Of Ultron, according to the Huffington Post. The Captain America: The Winter Soldier star is currently shooting the superhero sequel, and she told the site that she's currently training and getting ready to film her scenes in the next three weeks. While she will not yet confirm her pregnancy, she will confirm she's currently locked and loaded for the Black Widow part. Doing two action-heavy films back-to-back is heavy; hopefully Ms. Johansson can settle down and spend some free time with her child without answering Marvel's demands to get back in the catsuit.
In other news, the production is ramping up to shoot in South Korea, with Marvel in negotiations with the local government, according to THR. The first film had that brief sequence in Germany, and the new film has already completed a leg of production in Johannesburg, making this a confidently global production, even as principal photography will be in the legendary Shepperton Studios in England. The film will be shooting in the famous Gangnam District in Seoul. Several different areas are being looked at for shooting locations, many of them quite public. The local law enforcement is preparing for an onslaught of fans and onlookers, particularly because of the fame of two central participants in the film.
You might think that would be Robert Downey Jr., the global superstar who has an Iron Man trilogy under his belt, as well as the Sherlock Holmes movies. Maybe it's Chris Hemsworth, who is currently traveling worldwide shooting Michael Mann's next untitled film. Nope, it's actually Scarlett Johansson and Chris Evans. Johansson is likely known given her tabloid-y reputation as one of the world's most beautiful women. Evans, however, has a major advantage: he's well-known for starring in the Korean hit Snowpiercer, which has yet to hit our shores.
Your Daily Blend of Entertainment News