Scarlett Johansson Will Star in Ghost In The Shell, Get The Details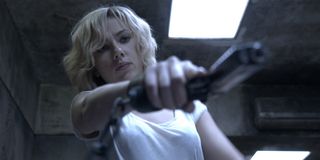 We haven't heart a lot on that Ghost in the Shell movie, a live-action adaptation of the Japanese anime. Scarlett Johansson, who's been kicking ass and taking names in the Avengers movies and Lucy, was reportedly offered a whopping $10 million to take the lead role a while ago, but now it looks like that has been finalized.
According to Variety, the project isn't officially greenlit, but ScarJo is on board. That alone means it'll likely get the go-ahead any day now. Who can say no to one of the biggest actresses working in Hollywood today? Plus, the project already has Steven Spielberg backing it; he's been wanting to make this movie happen for some time. With Rupert Sanders of Snow White and the Huntsman in the director's chair, DreamWorks has just about everything in place.
A Ghost in the Shell live-action movie has been in the works for some time, but has hit a number of snags along the way. The story focuses on a member of a special covert ops unit within the Japanese National Public Safety Commission. ScarJo already has experience playing a member of a secret organization fighting to keep the world safe, but this one focuses on technology-related crime. The property was first published back in 1989 by one of the largest Japanese publishing companies, Kodansha, and it has since generated three anime movies, an anime TV and three video games. The 1995 anime flick was pretty Matrix-y, as it took place in the future and followed a cyborg cop named Motoko Kusanagi who is tasked with tracking down a cyber-terrorist called The Puppet Master. It was a hit in the US, and now all that's missing from this franchise is the live-action version.
Margot Robbie was said to be in talks for the leading role earlier this year, but this character was tailor made for Johansson. From her voice acting role as the A.I. in Her to her butt-kicking heroines, it seems like all her steps have been leading up to this. The great thing about Ghost in the Shell is that, like many adaptations, it already has a built-in audience with the right mix of elements — mainly action, sci-fi and sex appeal — to also bring in fresh viewers. Considering how beloved this world is by anime lovers, perhaps this will transform into the next big movie franchise.
Until Ghost in the Shell gets the green light, we won't get a sense of the production schedule. Though, Johansson has a couple big projects lined up, including the Coen Brothers' Hail, Caesar and The Jungle Book, not to mention her Marvel commitments. Still, with the promise of $10 million, she's got some incentive to fit this in.
Your Daily Blend of Entertainment News
Thank you for signing up to CinemaBlend. You will receive a verification email shortly.
There was a problem. Please refresh the page and try again.