Nexon Publishing Ghost In The Shell Games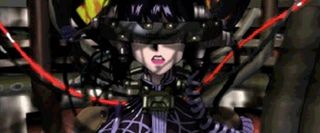 The popular sci-fi, futuristic cyborg anime Ghost in the Shell: Stand Alone Complex will be transformed into a series of games by publishing giant, Nexon. Shocking right? Well, the real surprise to the story is that there hasn't been any confirmation on the style of games Nexon plans to make, but they do admit that they will be in multiple genres. Could it be that a JRPG is in the works?
According to Nexon's CEO Seungwoo Choi commented about picking up the GITS license, saying...
There are zero details given on what Nexon has planned. None. Zilch. Nada.
However, Nexon does confirm that there will be multiple games and that they will be design with "attractive concepts in diverse genres." The games will also borrow from the Ghost in the Shell: Standalone Complex, Ghost in the Shell: S.A.C 2nd GIG and Ghost in the Shell: Solid State Society Series.
Now most of us know that Nexon is primarily known for free-to-play MMOs. Reaching outside of this genre has not been nor has it ever been a prime directive based on the games Nexon has developed or acquired. As many fans of Ghost in the Shell know, the series would probably make for a piss-poor MMO, and while the general atmosphere and themes could be interesting in an MMO environment, the real meat and potatoes of the franchise has always been its character studies and cyborg-relation story arcs. In other words, Nexon may not be working on a Ghost in the Shell MMO.
What I'd love to see is Nexon go ahead and break out a JRPG similar to Sega's Resonance of Fate. I think that would be a perfect fit for the newly acquired license. But given Nexon's silence on the matter, we can only wait and see what they plan to do with the brand.
Staff Writer at CinemaBlend.
Your Daily Blend of Entertainment News
Thank you for signing up to CinemaBlend. You will receive a verification email shortly.
There was a problem. Please refresh the page and try again.