Sci-Fi Thriller Europa Report To Be Distributed By Magnet Releasing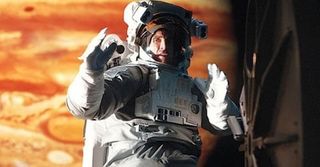 There are a number of films set to release this year that feature District 9's Sharlto Copley, among which is Sebastian Cordero's sci-fi thriller Europa Report. This week, it was announced that Magnolia Pictures' genre films label Magnet Releasing (John Dies At the End, The ABCs Of Death) has acquired the U.S. rights to the movie, which stars Copley and focuses on the exploration of Jupiter's moon, Europa.
Europa Report marks the English language debut of director Sebastián Cordero. It's described as "a unique blend of documentary, alternative history and science fiction thriller," and follows a contemporary mission to Jupiter's moon Europa in search of possible alien life.
The word "documentary" mentioned in the description had me wondering if we might expect at least some found-footage-style shooting with this film (not unlike parts of District 9), and that may turn out to be the case. But the mention of collaborating with NASA and other organizations conjures the image of documentary-style testimonials, perhaps to explain certain aspects of the mission. It seems like either is a possibility, but that's just a bit of speculation based on the interesting description for the film. The teaser that released last year doesn't give much away on that front.
The announcement notes that Europa Report will mark Copley's first return to science fiction since District 9. Though, he's also set to appear in Neill Blomkamp's Elysium, which is due out this year as well. Among his other upcoming credits are Spike Lee's Oldboy and Robert Stromberg's Maleficent. Suffice to say, we'll be seeing quite a bit of Copley in the coming months (and years).
It's expected to release into theaters at some point this year, but official release date for Europa Report has been set.
Your Daily Blend of Entertainment News
Thank you for signing up to CinemaBlend. You will receive a verification email shortly.
There was a problem. Please refresh the page and try again.