Scoop: Joseph Gordon-Levitt As Spider-Man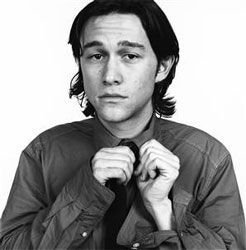 With Tobey Maguire still uncertain about whether or not he'll be playing Spider-Man after the third movie, Sony is preparing a contingency plan that will allow the franchise to move on without him. We have a line on who one of the actors they're considering to replace him is.
One of our most reliable, proven, inside sources emailed me tonight to let us know that Joseph Gordon-Levitt, star of The Lookout, could be in contention to be the next Peter Parker. Our source says the people in charge over at Sony were impressed by his performance in The Lookout, and that has him on their radar. And it should. Levitt's brilliant in it. Actually, he's brilliant in everything. He's one of the best young actors working today. He also has the right build, the right look, and could easily step in where Tobey Maguire has already tread.
Till now, a lot of the focus for who might replace Maguire if he leaves has been on Jake Gyllenhaal. He's the obvious choice for the part, but he's also more famous and more expensive. Levitt is cheaper, younger, and you know what… he's a much better fit than Jake Gyllenahaal. For the first time I can actually imagine someone being better at playing Peter Parker than Tobey Maguire. That's how good he is.
Of course everything depends on what Maguire decides to do. If he ends up sticking around, this discussion is moot. Even if he doesn't, for now this should only be considered a rumor. Joseph Gordon-Levitt is only in contention for the part, we're not saying he has it. No one does, until Tobey makes up his mind.
Your Daily Blend of Entertainment News
Thank you for signing up to CinemaBlend. You will receive a verification email shortly.
There was a problem. Please refresh the page and try again.