The Score Board: Godzilla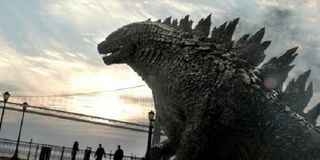 While the average audience member might not automatically process this, the overall sound of a film is pivotal to our enjoyment. When it comes to composers, it's almost as if they're engineering their own films away from the filmmakers, with elevated action, moody drama and swooning romance. What's unique is hearing the music of the film, then heading home and hearing it on your own. The mark of a great composition is that it complements the movie perfectly, but on an independent listen, it creates new images all its own inside your head.
This week, the score of choice is Godzilla from Alexandre Desplat, who has some big shoes to fill, bringing his sensibilities to a franchise with a legendary musical sound. There's much to discuss, and some of it may be vaguely spoilery, though we'll try not to mention any plot details.
Who's Responsible?
Desplat is a six-time Academy Award nominee who, somehow, has never won. His presence on Godzilla is something of a surprise, given that his work is associated with less-blockbustery highbrow concoctions, with the occasional detour into stuff like The Twilight Saga: New Moon and Rise Of The Guardians. He's got a crowded slate of four movies this year: continuing his Wes Anderson collaborations with The Grand Budapest Hotel, the WWII-era Unbroken and the surprisingly playful The Monuments Men. He's known for an emphasis on flutes and soft melodies, but Godzilla introduces a new side of the acclaimed composer.
What's That Sound?
Desplat follows in the footsteps of Akira Ifukube, who famously composed the iconic Godzilla Main Theme which you've heard repeatedly over the years on television shows and commercials. There's a driving melody to it, but most people likely fondly remember those lurching opening bars.
If we're discussing this score in relation to that original, iconic composition, it doesn't make much sense, because it utilizes many of the same instruments in exactly the same way (prepare for some intense drumming) but it also clearly is not the original score. If you heard them side by side, however, you'd be unable to distinguish the two, despite Desplat's more contemporary ramping up of the music's intensity. It's paying homage, in other words, but if you're very familiar with that original theme (and if you're young, you may not be), then it's going to be a bit of a distraction, like that time in The Amazing Spider-Man when they tried to make Uncle Ben basically paraphrase, "With great power comes great responsibility."
But if we're judging the work on its own, this is powerful, forceful stuff. Desplat utilizes an aggressive shifted time signature to sonically disorient the audience as the tempo drives the rhythm into your head. Godzilla's speed might be limited because of his size, but the score's busyness reminds you of how much ground he's really covering.
In other moments, the horn blares through the instruments much like Godzilla barreling through occupied buildings. It's consciously heroic, breaking through Desplat's signature violins to present a theme that starts low and crescendos towards higher notes, suggesting actual climactic action from within the music. It's an unusually smart and elegant score for a movie like this, even if at times it's strictly a march, creating both highs and lows that suggest an epic film with subtle low key shifts.
Sadly, there are no pop songs on this album.
Standout Track
It's not clear what some audiences are expecting when they see the film, but Desplat's opening theme over the initial credits sets a helluva tone of epic dread, the track Godzilla providing a thrilling march through the eye of panic. While Godzilla's visuals may give you pause, this track tells you immediately that this is going to be theatrical, maybe a little silly.
How It Plays Within The Movie
A little schizophrenic. As mentioned before, Gareth Edwards' film focuses on the grave threat Godzilla poses to people on a more elemental level, a profound and subtle idea. But the music itself is actually quite huge, bursting forth in a punishing matter that doesn't always coalesce with Edwards' vision. This is an often bleak, punishing film, but Desplat's not-unwelcome score seems operatic, heroic. It's a little bit idealist for a movie that has a fairly ethereal, pitch-back tone. At points, like most blockbusters, you can feel the push and pull from the director, who wants to make something unique and contemplative, and the studio, who want to pump up the crowds and get them cheering. Desplat's music suggests he's on the studio's side.
Perfect Listening For:
Godzilla's score has many highs and lows, which means regular exercise isn't going to work. Who exercises to a march? That being said, the score should help you expediently do your taxes or some other form of strenuous paperwork, driving home the idea that judgment is coming, and you'd better hustle and complete that paperwork.
What's In My IPod?:
-Alex Ebert, All Is Lost: Ebert's still relatively fresh, and it's a surprise that not only did award groups ignore his elegiac score for Robert Redford's lost-at-sea movie, they also failed to honor his mournful music-and-lyrics ballad Amen that tastefully leads into the closing credits. Most rightfully praised Redford for the film, but they neglected to honor the understated, multifaceted compositions that underlines his character's journey as the film's strongest aspect.
-Dickon Hinchliffe, Locke: Hinchliffe is a member of the Tindersticks, the band that have brought such stirring elegance to the films of Claire Denis. Going solo, he provided a percussion-heavy score for this otherwise-quiet film, filling transition scenes with eclectic, urbane guitar rock.
-Goblin, Tenebre: The Italian giallos of the sixties and seventies were never guaranteed to scare you, but they were always sure to make you dance. Much of that was because of giallo mainstays Goblin, the prog-rock group who redefined the way horror films were scored, adding aggressive guitar licks and early synthesizer manipulation to sonically take horror films into another place. One listen to the Tenebre theme and you won't stop dancing.
Your Daily Blend of Entertainment News