The Score Board: Michael Giacchino's Dawn Of The Planet Of The Apes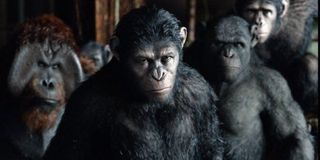 While the average audience member might not automatically process this, the overall sound of a film is pivotal to our enjoyment. When it comes to composers, it's almost as if they're engineering their own films away from the filmmakers, with elevated action, moody drama and swooning romance. What's unique is hearing the music of the film, then heading home and hearing it on your own. The mark of a great composition is that it complements the movie perfectly, but on an independent listen, it creates new images all its own inside your head.
This week, we listen to Michael Giachinno's score for Dawn Of The Planet Of The Apes, currently the number one movie in America. The Apes movies have a long legacy of significant scores from the likes of Jerry Goldsmith and Patrick Doyle, the latter who composed Rise Of The Planet Of The Apes. But, more importantly, this is more of a standalone film that exists outside the previously-established films. Which means Giacchino was allowed to provide a brand new sound for the apes, and in doing so gives Dawn Of The Planet Of The Apes its own distinct vibrations. There's much to discuss, and some of it may be vaguely spoilery, though we'll try not to mention any plot details.
Who's Responsible? This is Michael Giacchino's third straight collaboration with director Matt Reeves, having composed the score for Let Me In and provided the end-credits music for Cloverfield, an amusing proto-Godzilla called Roar. Listen to it below, it is DELIGHTFUL.
Delightful has been the operative word for Giacchino's work, which is frequently bouncy, jittery xylophone-heavy stuff. It was this signature sound that allowed Giacchino to collect the Academy Award in 2010 for Disney's Up. Up and Ratatouille earned him Grammy awards, and his sound has frequently been associated with animated work. That's changed in recent years, as the former television (Lost) and video game (Medal Of Honor) composer has recently been called into the world of blockbusters, providing the signature sound for Star Trek, John Carter and the upcoming Jurassic World.
What's That Sound? This is a departure for the normally-jazzy Giacchino, but fans of his work on Lost are going to find some striking similarities. What's notable about the score is how BIG it is. At times, the percussion overwhelms the material in a way that suggests an older score, perhaps a lost composition from the original Planet Of The Apes. On a few tracks he opts for more traditional chanting, but the combination of old-school theatrics and more contemporary ideas feels organic.
A large chunk of the score involves chase themes, usually with staccato string sections, topped off with slowly rising or falling brass sections. A bit of it leans towards repetitive – this feels like the MOST composing Giacchino's done in awhile, so its not a surprise that several motifs end up repeating as the score goes on, particularly considering how the film slowly blossoms into an action picture.
The softer material, surprisingly mournful but hopeful, is stronger. Most of it provides texture to the ape world, illustrating a multi-faceted society where each unit is a family all its own. Whenever Giacchino's score grows quiet and dirge-like, there's a brief, melodic respite thanks to some carefully-placed wind chimes or a building woodwind sequence that reminds of the immersive original compositions from Clint Mansell's Black Swan of all places.
Standout Track:
The Ape Processional plays during one of the film's many early scenes of world-building, setting a scene where the apes grow, play and work together. The music helps convey the idea of a utopia, particularly considering the visuals utilize a broken-down world.
How It Plays Within The Movie: Reeves leans heavily on Giacchino's compositions early on, particularly in dialogue-less passages as we watch the apes inhabit their world. One could argue a soundtrack-only option should be available on the DVD. The grandeur of Giacchino's work heavily compliments, and brings hope to, the film's massive visuals and on-screen world-building.
Perfect Listening For: The first half of the score is ideal for a long, slow drive, examining and admiring the fall foliage. Best for the sour mood of someone who would like to be briefly uplifted.
What's In My IPod?
Alexandre Desplat's Oscar-nominated score for Philomena is just a mite more nuanced than the affecting but clumsy movie, with a swevring elegance that suggests the mystery at the heart of the movie. Really lovely, justly-rewarded material.
Zatoichi: The Blind Swordsman finds master filmmaker Takeshi Kitano re-teaming with frequent collaborator Keiichi Suzuki for an irreverent and genre-defying score, one that utilizes modern instruments, subtle electronic experimentation and heavy, enthusiastic percussion. A sheer joy, in or out of the film.
As you heard above, Roar!, from Cloverfield, is nothing but monster-movie joy.
Your Daily Blend of Entertainment News
Your Daily Blend of Entertainment News
Thank you for signing up to CinemaBlend. You will receive a verification email shortly.
There was a problem. Please refresh the page and try again.