Scouts Guide To The Zombie Apocalypse Looks Gory And Silly In NSFW Trailer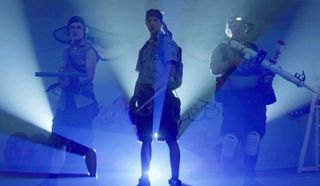 One of the tenants of being a Boy Scout is to always be prepared, and that mantra is going to come in especially handy in the midst of a zombie infestation, as there will be a lot of mayhem to contend with. And that's just what a bunch of outcast scouts—you have to assume the Boy Scouts of America didn't sign off on this, so they appear to some kind of knock off scouts—have to deal with in this new trailer for Scouts Guide to the Zombie Apocalypse. Check it out below.
This trailer has just about everything you want and expect from a movie called Scouts Guide to the Zombie Apocalypse. There are indeed both scouts and a zombie apocalypse, but there's so much more, too. You've got a zombie stripper, a whole horde of zombie cats, a strip club cocktail waitress who's handy with a shotgun, lots of exploding heads, and, for some reason, a trampoline. I don't know, but I'm sure we'll find out when we watch the movie. And there are zombie boobs, if that's something you're into.
Starring Tye Sheridan (X-Men: Apocalypse), Patrick "Son of Arnold" Schwarzenegger, Logan Miller (The Stanford Prison Experiment), Halston Sage (Neighbors), and living legend Cloris Leachman, this looks campy and gory and just over the top enough that it could very well be a great deal of fun. Some of the humor, admittedly, looks a bit too easy, but that's to be expected when you put a bunch of nerds in neckerchiefs with hot, zombie-fighting strippers. But the three lifelong scout friends will have to put all their skills to good use to survive this, and I'm just saying, but they better get one hell of an awesome merit badge if they make it through.
Directed by Paranormal Activity: The Marked Ones helmer Christopher Landon (who also wrote PA 2, 3, and 4), Scouts Guide, along with the upcoming Paranormal Activity: The Ghost Dimension oddly enough, is part of an experiment that could possibly change the way movies are released. For these two movies, Paramount, AMC, and a number of other theater chains have come to an agreement that will allow newer movies to hit the VOC market a little as 17 days after they end their theatrical run, instead of waiting months.
Especially for smaller movies with a more limited theatrical run—The Ghost Dimension, for example, is only going to open in 300 theaters—this move could be huge. It will allow audiences in places where the movie isn't playing to see it sooner, while at the same time giving movies the opportunity to capitalize on any momentum or word of mouth they might generate that could dissipate over the standard three or four-month waiting period. We'll have to wait and see if it takes off, and some theaters, most notably Regal, have remained resistant, but it's an interesting idea.
Scouts Guide to the Zombie Apocalypse opens on October 30.
Your Daily Blend of Entertainment News
Thank you for signing up to CinemaBlend. You will receive a verification email shortly.
There was a problem. Please refresh the page and try again.