One Major Theater Chain Is Trying To Change How Movies Are Released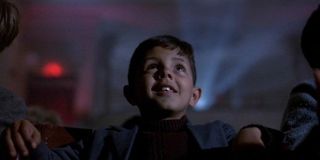 There are more ways to watch movies now than ever before. You have physical media like Blu-ray and DVD, streaming services like Netflix and Amazon Prime, and all manner of video on demand options. Even with all of these new outlets, for most big studio movies and new releases, you still have to choose between the movie theater or waiting months and months for a home release. However, a new deal struck between one of America's biggest theater chains and a major studio could change that before too long.
According to The Hollywood Reporter, AMC Theaters, the second largest chain in the U.S., and Paramount have come to an agreement that will allows viewers to watch new, or at least newish, releases digitally and at home almost immediately after their theatrical runs. Right now this is appears to be an experiment and will only impact two smaller movies that are getting a limited run in theaters, Paranormal Activity: The Ghost Dimension and Scout's Guide to the Zombie Apocalypse, though if this is a strategy that catches on, it could seriously impact the way we watch new release movies.
Paramount vice chair Rob Moore told THR:
These two films, which will both be released in approximately 300 theaters this coming October, will be made available just 17 days after they wrap up their time in theaters. (It does seems strange that a Paranormal Activity movie will only get a 300 theater release, as they usually go wide, but perhaps diminishing returns is why this is the last one.)
Most movies are in theaters for a month to six weeks, while bigger ones can run for ten or more. Even with that, theaters often insist on a three or four month buffer between when a run ends and a movie hits home video. This frustrates many fans, not to mention studios, which want to strike and make as much money as possible while their films are still in the public consciousness. A blockbuster doesn't have much to worry about, but smaller films run the risk of being forgotten or losing momentum.
While the deal between the studios and the theaters is big, this isn't an unprecedented release strategy. A number of smaller, boutique distributors already use a similar pattern. It's not uncommon for a new indie film to get a short, few weeks long run in theaters that is subsequently followed by a quick arrival on VOD platforms.
What is going to be most interesting to watch is if Paramount and AMC take this model and expand it. In return for this new arrangement, Paramount plans to pay AMC a portion of the digital profits for up to 90 days after the initial release, and if that proves beneficial to both parties, we could see this approach go much wider and include more theaters.
Moore already said that Paramount won't take the same approach with Mission: Impossible—Rogue Nation. It seems that, even if this does catch on, it will likely remain something they do with smaller movies that would have a shorter, more limited theatrical run anyway, as well as less promotion. With a quick turn around they can capitalize on any word of mouth a film generates, and will give viewers in smaller markets where these movies didn't play the opportunity to see a movie sooner and while there is still interest.
This is a bold move with potentially widespread ramifications, and we're curious to see how it develops.
Your Daily Blend of Entertainment News