Second Up In The Air Trailer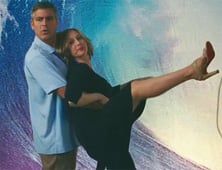 The second trailer for Up in the Air has arrived and, yep, it's amazing. Unlike the first teaser, this one focuses more on Clooney's relationship with a trainee, whom he's forced to take with him on trips to show the ropes. He gifts her with such nuggets of wisdom as: "Never get behind old people, their bodies are littered with hidden metal," and Asians "They've got a thing for slip-on shoes god love em." He's like his mother. He stereotypes, it's faster.
Watch the second trailer for Up in the Air in HD on Apple (opens in new tab), or watch it below.
Your Daily Blend of Entertainment News
Thank you for signing up to CinemaBlend. You will receive a verification email shortly.
There was a problem. Please refresh the page and try again.