See Harley Quinn Become A Tattoo Artist On The Suicide Squad Set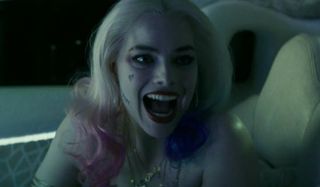 Margot Robbie's debut as Harley Quinn in the trailer for Suicide Squad left many fans in an overjoyed stupor. Not only did she manage to dominate the screen with her beguiling gymnastic moves and performance, but she also did so with Jared Leto and Will Smith for company too. Any additional glimpse at the Australian on-set has since been eaten up with a fervor… which is why this look at the actress giving a tattoo to director David Ayer should please plenty of people:
Margot Robbie's intense seriousness as she inks the "SKWAD" tattoo on her director's arm suggests that she probably wasn't in character while she inked Ayer up. If she was being all method then she probably would have been cackling maniacally.
If Margot Robbie found herself so genuinely beguiled in her brief role as a tattooist that she wanted to do it professionally as the character then she's in luck. That's because the perfect sign for her potential parlour has already been created, and could easily be erected. Once again, David Ayer took to Twitter on Tuesday to share the below image, in addition to the one above:
It seems that we can expect the rest of the Suicide Squad posse to be given their own versions of the above ink in the near future anyway. That's because Joel Kinnaman was actually the first actor from the film to share that he'd been given a SKWAD tattoo… something that was inked onto him by none-other than Will Smith.
Clearly, this is all part of a huge bonding experience for everyone involved in the production. As such, we can likely expect to see Margot Robbie, Jared Leto, Jai Courtney, Cara Delevingne, Viola Davis and more be brazoned with one in the near future too. Otherwise, they're confirming that they're not team players, and no-one wants to be tarred with that brush. Suicide Squad will be released on August 5, 2016, and it looks rather enjoyable.
Your Daily Blend of Entertainment News