See What Ghostface Is Up To On The Set Of Scream 4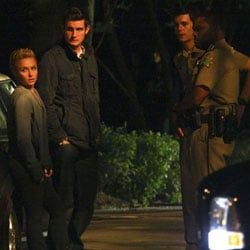 It's been a little while since our last Scream 4 update and while there still isn't anything too profound to report, there are enough floating around that'll at least spark some interest. At this point it seems as though Wes Craven is done with out-in-the-open shots and is now sticking with locations in residential areas. I don't know what this Bananadoc person does for a living, but he or she seems to have made the Scream 4 shoot his or her life because Bananadoc is the person responsible for a wide majority of the images and info floating around the internet.
For example, here's what Bananadoc had to say about a scene shot on the 13th on Scream-Trilogy.net:
A small crowd is still a crowd, so I cannot believe someone hasn't spoiled whatever went on that night yet.
Warning, this may delve into spoiler territory. Nico-Tortorella.com, clearly a site dedicated to the Scream 4 star, has a gallery of shots of Tortorella with Emma Roberts and Hayden Panettiere. No, they're not just of the kiddies hanging around the fountain; they show some actual blood! The spoiler is who the blood's on – the film's heroine, Roberts. It's only a little splatter, so her character, Jill, likely only suffers a baby stab at this point. You know, the kind Stu and Billy intended to give each other at the end of Scream.
Speaking of Stu Macher, Before the Trailer caught Matthew Lillard in the area. No, he isn't making a Scream 4 cameo ghost-style, as far as we know; Lillard is in Michigan working on a project of his own called Home Run Derby. People went a little nutty when shots of Lillard hanging out with Campbell surfaced, but the shooting locations are likely a coincidence and the old friends just opted to take advantage of the opportunity and hang out.
What cannot be taken very lightly is a new image posted on BleedingCool.com. They've got a shot of a wall covered with Scream 4 storyboards. It's difficult see, but Scream-Trilogoy.net sharpened the image up quite a bit and when viewed in its largest form, you can actually make out some of what's going on.
That's it for now, but we'll keep an eye out for more Scream 4 news and post another update soon. If you need day-by-day info, I'd suggest checking out this Bananadoc guy's website called Michigan Movies and More.
Your Daily Blend of Entertainment News
Staff Writer for CinemaBlend.