Seeker Is The Next Hunger Games-Style Novel Coming To The Big Screen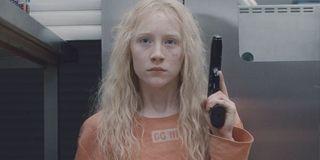 Even if YA novels are your jam, you probably have not yet heard about Arwen Elys Dayton's Seeker. The first in an intended trilogy, this young adult book mixes elements of science fiction and fantasy. And while the novel won't hit bookshelves until 2015, it's already got a movie adaptation in the works over at Columbia Pictures.
THR reports the will-be book was first the subject of a heated publishing bidding war last week. Shortly after Delacorte Press won publishing rights with a high six-figure deal, Columbia snatched up the movie rights and attached the Mark Gordon Company (Source Code) to produce. But what—aside from franchise potential—has publishers and movie producers so excited?
The Seeker centers on Quin Kincaid, a young girl who has spent years in rigorous and sometimes brutal training, all the way told she's being prepped to be a "Seeker." It's only at the point of no return when Quin discovers her carefully honed skillset has actually fashioned her into a top-notch assassin. From their, her first adventure takes her all around the world, from an isolated estate in Scotland to a crowded and futuristic Hong Kong.
President of production Hannah Minghella, who will oversee production, says of Seeker:
This is pretty exciting news for Dayton, especially considering Seeker is her first YA novel. Previously, she penned the more mature sci-fi/fantasy novel Resurrection, which was a Kindle best seller. The Seeker movie will likewise be the first time her work is adapted.
With shades of Hanna and The Hunger Games in its premise, its easy to see why Columbia was so eager to secure the rights to Seeker. From here they'll search for a screenwriter to adapt the novel, and then we might have some idea when the picture would be slated for release.
Staff writer at CinemaBlend.
Your Daily Blend of Entertainment News
Thank you for signing up to CinemaBlend. You will receive a verification email shortly.
There was a problem. Please refresh the page and try again.