New Set Photos Could Tell Us Everything We Need To Know About Batman v Superman's Lex Luthor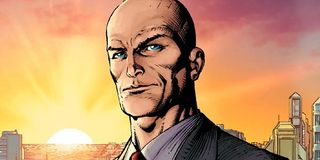 Comic book movies and Easter eggs go together like peanut butter and jelly. When it comes to telling superhero stories, directors really love including little tidbits and details from the source material, and usually do so by hiding them in the background - leaving them to only be found by die-hard fans. Looking at recent photos from the set of Batman v Superman: Dawn of Justice, it appears that director Zack Snyder has a very interesting one of these planned for his film- and if it means what we think it means, it could actually tell us a lot about the direction the movie is taking for its portrayal of legendary villain Lex Luthor.
A Twitter user named Tim Malen (via Movie Pilot) recently posted some photos on his timeline showing that the production of Batman vs. Superman has changed the location of a restaurant known as the Hygrade Deli to a place named Ralli's Diner. While this tidbit of news may seem rather innocuous, the location is actually a pretty fun bit of trivia for those who are well-versed in Man of Steels comics.
Potential spoilers ahead! Don't scroll past the image if you don't want to see any prospective spoilers about the Lex Luthor character in Batman v Superman: Dawn of Justice.
Back in 1987, John Byrne wrote a story called "Metropolis 900 Mi." which was largely set at a diner called "Ralli's," seen above. Lex Luthor sits down to have himself a meal, but quickly finds his attention drawn towards his waitress, Jenny. The bald villain decides to make the woman an indecent proposal: he will give her a million dollars if she comes to live with him for a month. Jenny is disgusted by this offer, explaining that she has a husband and doesn't need his money. Of course, Lex is an evil psychopath, and doesn't take no for an answer. He proceeds to completely dominate Jenny mentally, explaining how every decision she has made in her life has been wrong. After completely breaking her down, he says that he will give her 10 minutes to make a decision. We never know what Jenny's final decision would be, as Lex decides to drive off before the countdown ends - which, Lex explains to his driver, was the whole point of the exercise.
Now let's think about Batman v Superman: Dawn of Justice and Jesse Eisenberg's portrayal of the character. I may have a different opinion than most here, but don't you desperately want to see that sequence play out in full? It wouldn't really advance the plot in any way, but it would be a fantastic way for us to learn just how cruel, evil and manipulative this new version of Lex can be. Hell, this could be amazing if it were the opening scene of the film. It's also possible that the name "Ralli's" is just borrowed from the comics and will have absolutely no connection to the aforementioned comic. It could go either way.
As you can probably tell, Batman v Superman: Dawn of Justice is still in production, and in addition to Jesse Eisenberg the movie will also star Henry Cavill, Ben Affleck, Gal Gadot, Ray Fisher, Amy Adams, Laurence Fishburne, Diane Lane, and Jeremy Irons. Look for it in theaters March 25, 2016.
Your Daily Blend of Entertainment News
Assistant Managing Editor
NJ native who calls LA home and lives in a Dreamatorium. A decade-plus CinemaBlend veteran who is endlessly enthusiastic about the career he's dreamt of since seventh grade.