Why Jesse Eisenberg Is The Perfect Choice For Lex Luthor In Batman Vs. Superman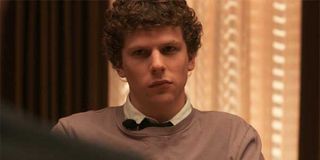 Thus far, all of the new casting decisions made for Zack Snyder's Man of Steel sequel have been nothing if not controversial. When Ben Affleck came aboard to play Batman last August it was met with a tidal wave of internet hate, as fans took pleasure in throwing the critical failure Daredevil back in the actor's face. In December when it was revealed that Fast & Furious's Gal Gadot would be playing Wonder Woman in the movie, comic book purists scorned her skinny frame and medium stature.
So when it was announced earlier today that Jesse Eisenberg has joined the film to play the villainous Lex Luthor, the response was rather predictable. Readers in our own comments section and around the internet have reacted wildly to the news, some asking if the casting is a "cruel joke," and others saying how "everything about this movie just screams 'RUN AWAY!!!!!!!!!!"'"
Despite this vitriol and pessimism, however, the truth is that Eisenberg could end up playing the most fascinating version of Lex Luthor that we've seen on the big screen yet.
When looking at the character of Luthor, it's important to see him both in and out of context with Superman. Living in his own world, the great supervillain is an absolutely brilliant genius, has access to just about every resource in the world, and has endless ambition. But what does any of that mean when an alien can come from space, be powerful in all of the ways that he cannot, and earn the devotion and love of everyone on Earth? As long as Superman remains on Earth, Lex will always be inferior, and his ego being unable to tolerate that is what ultimately drives him as a villain.
Now let's take a quick look at a scene from The Social Network, the film that features what many agree is the best performance of Jesse Eisenberg's career so far:
While every actor always tries to stretch their horizons and try new and different things, what you see above is exactly what I want to see from the new version of Lex Luthor. Throughout David Fincher's film, Eisenberg's Mark Zuckerberg is always playing from behind – be it not getting into Final Clubs or getting sued by his best friend – what's stunning about the actor's performance is how the character steadfastly refuses to ever be the smallest figure in the room (even when he is). Eisenberg has mastered the tone and cadence required for this kind of arrogance, and it's exactly the kind of stuff that's been featured in comic books for decades.
More than just his deft ability to generate enormous power and screen presence through verbal linguistics, Eisenberg brings a whole new angle to the Luthor character just in the fact that he's only 30 years old. Unlike the previous Superman movies, which brought in Gene Hackman and Kevin Spacey when both were in their late-40s, this new incarnation of the supervillain will be the first one that's actually the same age as the Superman he's fighting against. This means that this version of Lex is probably still trying to figure out his way in the world, and that the means the appearance of Superman on the world stage may have the same kind of effect on him that General Zod's appearance had on Superman in Man of Steel.
I personally couldn't be more excited for this new version of Lex Luthor, but what do you think? Who agrees with me? Whose minds have I changed? Who still thinks that Eisenberg is a bad choice? Answer our poll below and let me know what you think in the comments section.
This poll is no longer available.
Assistant Managing Editor
NJ native who calls LA home and lives in a Dreamatorium. A decade-plus CinemaBlend veteran who is endlessly enthusiastic about the career he's dreamt of since seventh grade.
Your Daily Blend of Entertainment News
Thank you for signing up to CinemaBlend. You will receive a verification email shortly.
There was a problem. Please refresh the page and try again.