Seth Rogen Calls MPAA Hypocritical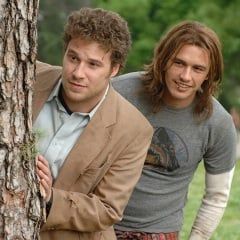 Seth Rogen has spent a lot of his career toeing the line with the MPAA, from playing a gun-crazy cop in Superbad to beating the shit out of everyone imaginable in this week's Pineapple Express. But only in Kevin Smith's upcoming Zack and Miri Make a Porno has one of Rogen's movies been slapped with an NC-17 rating, and he says that decision is "completely hypocritical."
"I honestly don't feel like it's anything I haven't seen some version of in a movie before," Rogen said today during an interview to promote Pineapple Express. "When I watch the movie, I'm honestly shocked that, of all the movies I've been a part of, this is the one that got an NC-17." Rogen went on to point out that Pineapple, which is rated R, isn't exactly wholesome. "I mean, we sell weed to 10-year-olds in this one, and no one gives a shit. All this movie [Zack and Miri] has to do is with sex and shit. To me it's completely hypocritical that this would get an NC-17 rating." Rogen's thoughts seem to echo Kevin Smith's, who is disappointed with the rating as well but has said he's contractually obliged to get it down to an R. It's nothing new to have filmmakers and stars disappointed with the MPAA's arcane ratings system, but it's nice to hear someone as straight-talking as Rogen admit that the ratings group has made a completely boneheaded decision.
Check here later this week for more from our interview with Rogen and James Franco, as well as other stars of Pineapple Express.
Staff Writer at CinemaBlend
Your Daily Blend of Entertainment News
Thank you for signing up to CinemaBlend. You will receive a verification email shortly.
There was a problem. Please refresh the page and try again.