Seth Rogen, Joseph Gordon-Levitt Reteam For A Christmas Comedy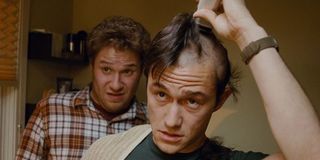 It's difficult to peg writer-director Jonathan Levine down. He made his directorial debut with the grim horror movie All The Boys Love Mandy Lane, but broke through with the coming-of-age follow-up The Wackness. Next came the celebrated dramedy 50/50, followed by the zombie rom-com Warm Bodies. For his next venture, Levine is ditching all the genres he's tried so far, and taking on a holiday movie for an Untitled Xmas Comedy he himself penned.
THR reports Levine has wrangled his 50/50 co-stars, Seth Rogen and Joseph Gordon-Levitt, to front this Christmas comedy. While it doesn't have an official title yet, we do have a logline. Rogen and Gordon-Levitt will play two-thirds of a trio of longtime friends who get together in New York City for their traditional Christmas Eve night on the town. For me, this instantly brings to mind flashes of A Very Harold and Kumar 3D Christmas, but just how raunchy or wild this comedy might be is not yet being tipped.
The project is being produced by Joe Drake and Nathan Kahane, who produced and co-financed 50/50 with their company Good Universe, formerly Mandate Pictures. Rogen will also produce with partner Evan Goldberg under their Point Grey Pictures banner. With Rogen and Goldberg on board as producers, the mind reels as to what unnamed actor might fill the third lead role. Could it be one of Rogen's This Is The End co-stars? Perhaps Jonah Hill, James Franco, Jay Baruchel, Craig Robinson or Danny McBride? We'll see as this project develops.
Levine is lined up to write and direct this Untitled Xmas Comedy, which was shopped to studios this past weekend. The script and package of Levine/Rogen/Gordon-Levitt appealed to several studios, spurring a bidding war between Sony, Universal and Paramount. Sony, which distributed This Is The End and is also making the Rogen/Goldberg comedy The Interview, came out on top Monday afternoon, though no word has emerged about how much they doled out to seal the deal.
It'll be interesting to see how big a budget is allowed for this Untitled Xmas Comedy. Though 50/50 and Warm Bodies were hits, Levine is not exactly a major earner at the box office. The former had a teeny budget of $8 million, and pulled in $35 mil domestically, which is impressive considering it was a hard sell, being a dark comedy about cancer. Warm Bodies boasted a much higher budget of $35 mil, and made $66 million domestically, $116 million worldwide. It was a seemingly good return on investment (without knowing the costs of print and advertising Lionsgate paid out), but not enough to make Levine a clear box office draw. But of course, Rogen and Gordon-Levitt should help this Christmas comedy's appeal.
We should get further updates on this Untitled Xmas Comedy soon, as Sony is fast-tracking the project to shoot this summer. In the meantime, remember the last time these three worked together?
Your Daily Blend of Entertainment News
Staff writer at CinemaBlend.