Seth Rogen May Be Kevin Smith's Ranger Danger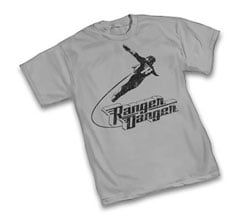 It was back in July at Comic Con that Kevin Smith hinted at the possibility of a science fiction movie as one of his next projects. At the time, it sounded like he might be doing something set in space. Now talking to Sci-Fi Wire, he says it's a superhero movie.
Smith says, "I'm going to do the science fiction superhero movie. It's going to be an original superhero that I've created. It's stewing right now. I want to do it, though, and, God willing, it will star Seth Rogen." Rogen and Smith work magic together in Zack and Miri Make a Porno, just imagine them letting loose on an effects heavy superhero flick, or even better a superhero flick set in space.
It seems likely that the movie Kevin's talking up is the long rumored Ranger Danger and the Danger Rangers, an idea teased in the form of a t-shirt worn by Randall in Clerks. When it's discussed, Ranger Danger is usually talked about as being in the vein of Flash Gordon, and the teaser artwork on Randall's shirt makes the character look a lot like an outer space version of The Rocketeer. If that's what he's talking about here, Seth Rogen may be the man to strap on a rocket pack and become Ranger Danger.
Your Daily Blend of Entertainment News