Shame Trailer Offers A Stylish Look At The Film Starring Michael Fassbender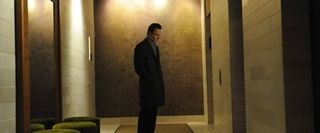 This one goes out to anybody who thought Magneto was dreamy in X-Men: First Class, and I know there are a lot of you out there. The Guardian has the exclusive debut of the trailer for Shame, directed by Steve McQueen (the Hunger one, not the jumping-fences-on-motorcycles one). Michael "Magneto" Fassbender plays a single, thirty-something New Yorker who has become addicted to sex for its own sake, free of intimacy or commitment (suspension of disbelief...fraying!). His carefree ways are thrown for a loop when his sister Cissy (Carey Mulligan) arrives and announces that she's moving in with him. Also, apparently he has a whole lot of porn on his computer.
Shame marks the second time Fassbender has worked with director Steve McQueen; the first time was on the 2008 film Hunger. Shame premiered at the Venice Film Festival, where it picked up several awards, including Best Actor for Fassbender. It will premiere here in the States on December 2nd, courtesy of Fox Searchlight Pictures. You can check out the website right here.
Your Daily Blend of Entertainment News