Shazam Might Not Be Connected To The DC Universe, Here's Why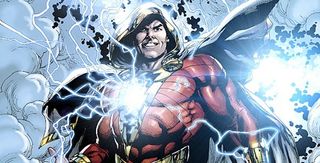 DC may have a variety of films coming out between now and 2020, but not all of these films will necessarily be connected. Although most of these movies are being made by Warner Bros., Shazam is a co-production between WB and New Line Cinema, the latter of which has been working on a Captain Marvel (his previous identity) movie since the early 2000s. Combined with New Line Cinema president Toby Emmerich saying that Shazam is "not a Justice League character" and that the movie will have a "tone unto itself," many have suspected that the World's Mightiest Mortal would not be a part of the DC Cinematic Universe. Today, Dwayne "The Rock" Johnson, a.k.a. the film's Black Adam, seemingly confirmed this belief when he responded to a friend that stated that DC movies would never be fun. Here was his response:
Naturally he turned to his own character to point out the "bad ass" fun that will be in the film, but it's interesting that he added that it's a New Line/WB project, followed by #Independence. The tweet implies that Shazam won't exist in the DC Cinematic Universe and will instead be a standalone feature. This would be similar to what's being done with the movies from DC's Vertigo line, which features stories for more mature audiences. It may be an imprint of DC, but because they're so tonally different from the superhero fare of the main DC universe, movies like Sandman will be independent of the DCCU. Who knows, if New Line is collaborating on other superhero projects with WB, viewers may get another superhero movie universe, with Shazam being the first entry.
While it's hard to gauge what the overall feel of the DC Cinematic Universe will be until Batman V Superman: Dawn of Justice is released, going off what was seen in Man of Steel and official pictures from Batman V Superman, the general belief is that Warner Bros. is going for a darker tone with these movies in contrast to the Marvel Cinematic Universe's lighter fare. This isn't a tone that works for Shazam. The story is about a boy who can transform into a superpowered adult by saying a word. He's not brooding, he's not on a quest for revenge and he's not standing around looking serious. He loves these powers and enjoys being able to use them whenever he wants. He relishes being able to fly, conjure lightning and punch through brick walls. These abilities aren't a burden, they're the ultimate wish fulfillment, and he's able to accomplish a lot of good with them. That's the type of movie Shazam needs to be: a fun, action-packed romp.
WB and New Line might change their mind and have Shazam exist in the main DCCU, but don't get your hopes up of seeing the Big Red Cheese teaming up with the Justice League. He'll be doing his own thing while the other heroes fight world-ending threats. However, if you're interested in seeing what Shazam being a member of the Justice League would be like, pick up recent issues of the New 52 Justice League book at your local comic book store.
Connoisseur of Marvel, DC, Star Wars, John Wick, MonsterVerse and Doctor Who lore. He's aware he looks like Harry Potter and Clark Kent.