Sherlock Holmes Coming Home For Thanksgiving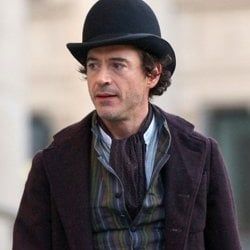 Next Thanksgiving, when I go home to visit my parents, I won't be able to go with my dad to the new James Bond movie-- that seems to be turning into an even-numbered years phenomenon. But luckily the movie gods have brought me the next best thing to enjoy post-turkey: Sherlock Holmes has set a release date of November 20, 2009, six days before we all go into our tryptophan comas.
JoBlo picked up on the date from the Warner Bros. website, and wondered why the movie is coming out in the fall when it could easily play as summer action fare. Even though Robert Downey Jr. was the king of this summer, he's a prestigious actor who can sell tickets in the fall as well; it's not as risky as, say, Van Helsing 3 coming out around Christmas. And who knows, maybe there are legions of daughters who were raised by dads who love James Bond and Sherlock Holmes equally, and the studio figured you can replace one with the other. Works for me; RDJ in those houndstooth pants is a pretty dandy substitute for Bond's tuxedoes, don't you think?
Staff Writer at CinemaBlend
Your Daily Blend of Entertainment News
Thank you for signing up to CinemaBlend. You will receive a verification email shortly.
There was a problem. Please refresh the page and try again.