Shrek Is A Wanted Ogre In The New Forever After IMAX Trailer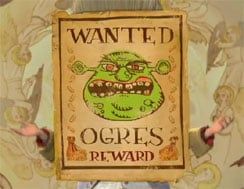 Shrek Forever After has a new IMAX trailer and it lays things out pretty clearly. Shrek gets tricked by that no Rumplestiltskin and find himself sent to an alternative universe where he never existed and Rumple is the ruler of Far Far Away. He has a single day to rally his friends and win back the kingdom and from the trailer it looks like it all culminates in some sort of chimichanga catapult battle.
Even though it contains a scene in which Shrek goes surfing this trailer, more than any of the others before it, looks kind of fun. Maybe Shrek has run out of gas but it can't possibly be worse than the last film, can it? If this really is the last Shrek, it'd be great to see him go out on a more positive note. Check out the new Shrek Forever After trailer below:
[REMOVED AT REQUEST OF COPYRIGHT HOLDER]
Your Daily Blend of Entertainment News
Thank you for signing up to CinemaBlend. You will receive a verification email shortly.
There was a problem. Please refresh the page and try again.