Sinestro Is Not Green Lantern's Bad Guy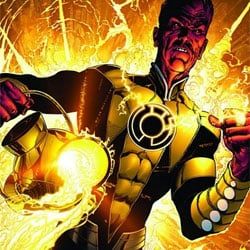 Till now everyone has pretty much assumed that Sinestro would be the villain of the upcoming Ryan Reynolds powered Green Lantern movie. In fact, when we learned last week that Mark Strong was on board to play the character, many reporters announced it as "Mark Strong to Play Green Lantern Villain". Not so fast.
No one involved with the production has ever actually said Sinestro would be a bad guy, only that he'd be in it. In fact they've already announced the movie's villain and it's a psychic powered baddie named Dr. Hector Hammond, played by Peter Sarsgaard. That news broke last week here. So does that mean two villains? Probably not.
Coming Soon caught up with Green Lantern director Martin Campbell who dropped hints about the true nature of the character by saying, "we all know Sinestro, for an example, is a character who goes over to the dark side, and of course, Carol, played by Blake Lively, in later versions becomes a bad guy as well. I think people will be able to see forward to the characters that in the comic went on to (become bad guys)... but people will be ahead of us on all that I think."
It sounds like Sinestro will only be in the film to set up a sequel where he goes evil. Not a bad move really, especially when Peter Sarsgaard is more than up to the task of handling the duties and obligations of pure evil.
Your Daily Blend of Entertainment News