Six New Clips Show Off The Humor In Love And Other Drugs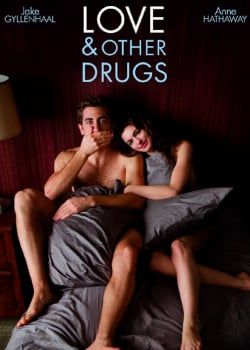 Though it stars two ridiculously attractive people and features them in bed together on the poster (at right), Love and Other Drugs is not exactly your typical romantic comedy. First of all it's set in the late 90s, starring Jake Gyllenhaal as a Pfizer drug rep charging with promoting and selling the brand-new miracle drug, Viagra. Second, and more importantly, the movie boasts a heavy amount of drama, much of it coming from Anne Hathaway's character, a young woman diagnosed with early onset Parkinson's. In addition to taking a satiric look at the pharmaceutical industry (and featuring one scene of people dancing the Macarena in classic 90s style), the movie is about romance under near-impossible circumstances, as Gyllenhaal's character falls for a woman he knows has a debilitating, degenerative disease.
Though, again, the movie is technically a comedy, and there are plenty of laughs to be found, especially in the first half of the film when Jake and Anne's characters first meet and start falling in love. Because funny clips work better on their own then heavy and dramatic ones, Fox has released six clips mostly from the first half of Love and Other Drugs that actually give you a pretty good idea of the film's trajectory. Watch as Jake explains his womanizing skills, gets attacked by Anne for posing as a doctor to see her naked, learn she's just in it for the sex too, discover he really is falling for her (while she wants to keep things casual), and get a visit from a very naked Anne while his brother happens to be sleeping on the couch. Love and Other Drugs opens November 24.
Your Daily Blend of Entertainment News
Staff Writer at CinemaBlend