Will Smith To Reteam With His Suicide Squad Director For This Movie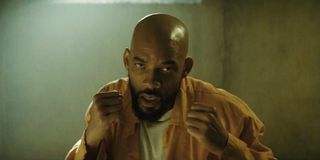 The cast and crew of Suicide Squad were so chummy together that several of them got matching tattoos to commemorate their time filming. But, having left their indelible marks on each other following their work on Suicide Squad, Will Smith and director David Ayers have decided to re-team for the upcoming film Bright, which is likely to test the bounds of their burgeoning friendship.
News regarding the cop thriller is still in scant supply, but it has already assembled a mightily impressive cast and creative team that suggests it should be a must watch. The Hollywood Reporter has not only confirmed the presence of both Will Smith and David Ayer on the project, but they've also revealed that Australian actor Joel Edgerton will star in the film as well.
However, one of the most intriguing aspects of Bright is that, according to The Wrap, either Will Smith or Joel Edgerton will be playing an orc police officer, as Bright includes fantasy elements that sees humans live amongst fairies and creatures of similar ilk.
The script for the peculiar cop thriller has been penned by the remarkably consistent Max Landis, whose screenwriting credits start with 2012's Chronicle, include 2015's American Ultra and Victor Frankenstein, while his directorial debut Me Him Her will be in theaters May 11th. Additionally, his action rom-com Mr Right is released next month, and he helped to re-write the Power Rangers reboot too.
However, while movie nerds will be intrigued by the fact that Max Landis has written the script, the main appeal to Bright is the fact that it reteams Will Smith and David Ayer. The pair is surely hopeful that movie studios feel the same way too, because the hunt is now on the find a home for Bright.
One of studios that's bound to take interest in the project is Warner Bros., the studio behind Suicide Squad, and its likely sequel. Especially since the reaction to Suicide Squad's trailers has been so hugely positive that anticipation for the blockbuster is, arguably, more fervent than it is for Batman V Superman: Dawn Of Justice.
It's also a good sign that Joel Edgerton has decided to hitch his wagon to Bright too. Over the last few years Joel Edgerton has forged an compelling career path, which last year alone saw him star in the James Deen biopic Life, the Whitey Bulger gangster epic Black Mass, as well as writing and directing The Gift.
Before Bright, we'll see Joel Edgerton pop up in Midnight Special later this month as well as Loving. But it's hard not to look forward to the orc cop thriller, which will hopefully find a home soon so that we can start counting down the days until its release.
Your Daily Blend of Entertainment News