Soaked In Bleach Trailer Examines Whether Kurt Cobain Was Actually Murdered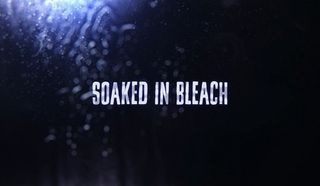 Brett Morgen's documentary Kurt Cobain: Montage of Heck, examining the life of the reluctant rock star, caused quite a stir at Sundance earlier this year. Now another movie, Soaked in Bleach, looks to examine a different part of his story, specifically his death, albeit in fictional form, and a new trailer is here.
Like damn near every tragic death that takes place in the public eye, there are tons of conspiracy theories floating around about Nirvana frontman Kurt Cobain's 1994 suicide. Soaked in Bleach provides a look at the musician's death from the perspective of Tom Grant (played by Daniel Roebuck), a private detective hired by Courtney Love to track down her husband after he left rehab just days before his body was discovered.
Though it was ultimately ruled a suicide by a self-inflicted gunshot, there have been those who have doubted the story since day one, and those who espouse the theory that it was murder have only grown more vehement over time. Grant, a former L.A. Sheriff detective, found evidence that indicated there could have been foul play involved, emphasis on could, and Soaked in Bleach seeks to unravel the narrative as a mystery digging into this case from his perspective.
While it is a fictionalized telling of this particular story, Soaked in Bleach also weaves in nonfiction threads at the same time. Not only does the film include Grant's findings, but it also features documentary footage, as well as interviews with people involved and associated with the case. In the trailer above you can see an interview with former Seattle police chief Norm Stamper, and it stands to reason that there will be more instances like this, as well as the dramatic recreations. All in all, it kind of feels like an episode of Unsolved Mysteries.
Grant's belief that Kurt Cobain was murdered is based on a number of factors. First, he claims that there was too much heroin in Cobain's system for him to have pulled the trigger himself, though experts are split on the subject, and thinks the drugs were used to incapacitate him. Grant also claims that there are inconsistencies with the suicide note, as well as citing a lack of useable fingerprints on the shotgun, and that Courtney Love had motive to kill her husband. This is all very similar in subject matter to Kurt & Courtney, Nick Broomfield's 1998 documentary, which, like all the other evidence, is circumstantial and only truly compelling if you're already mostly sold that Cobain was murdered.
If you're interested in exploring the death of Kurt Cobain further, Soaked in Bleach is available via Vimeo starting on June 11.
Your Daily Blend of Entertainment News