The Kurt Cobain: Montage Of Heck Documentary Trailer Is A Must See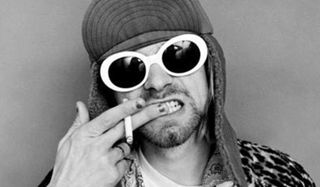 A new incisive documentary exploring the life of the late frontman of the 1990's alt rock outfit Nirvana, called Kurt Cobain: Montage of Heck, has just released a powerful trailer that proves itself to be a montage of so much more than its title implies. Serving as an unprecedented look at the personal life of Cobain, via never-before-seen home movies and interviews with family, the movie looks to provide a deep, powerful look at the tortured man who died in 1994 with his musical career at its apex and a family with a young daughter at home.
Beginning with innocent home movies of Cobain as a toddler, content and enjoying a life in which he fit, we see the evolution of his apparent incongruity with the world, beginning with apparent rejection from his family, "unruly" behavior and a sensitive side that shaped his psyche into the creative mind who would create some of the most memorable music of the 1990's. Creativity was clearly the method with which he channeled his rage and doubt, and he aspired to be successful at that with his songs.
However, the old adage that begins, "be careful what you wish for" would come back to bite Kurt Cobain when having achieved the height of his dreams with the success of Nirvana would yield no solution to his depression, or for that matter, the much-documented grueling physical pain he experienced with stomach ailments. (Which he often treated by drinking Pennyroyal Tea, as the Nirvana song implied.) Likewise, the documentary seems to depict Cobain as a man who got himself on a rollercoaster ride that proved too much for him to take.
Unlike previous Kurt Cobain documentaries with various themes ranging from straight biographical fandom to conspiracy theories over Kurt's death, Montage of Heck will be unique in that it is the first one to be fully authorized by his surviving family members; most notably his widow, Courtney Love. This aspect, alone makes it groundbreaking.
The documentary is written and directed by Brett Morgen, who was nominated for an Oscar in 2000 for a documentary on young boxers called On the Ropes. Yet, in the aforementioned spirit of family cooperation, the film may carry a more personal vibe, since Cobain's daughter, Francis Bean Cobain (who was just an infant at the time of her father's death) was brought on board as an executive producer. Even based just on what we see in the trailer, the family involvement has clearly created a new layer of depth in the form of previously inaccessible found footage and interviews.
It is a testament to the legacy of Nirvana that projects like this documentary are still potent enough of a topic with musically inclined moviegoers. When Cobain and Nirvana, just a trio of obscure Seattle hard-rocking hipsters, signed to a major label, and released Nevermind in late 1991, it created a tidal wave of popularity that resulted in a renaissance in the 1990's for previously underground Alternative Rock.
The music industry is currently in a completely different state than the way Cobain left things in both the aspect of style and its business model. However, Kurt Cobain: Montage of Heck will definitively prove that the late Nirvana frontman left it an indelible mark that includes the band's presence in the Rock and Roll Hall of Fame. The film has been making the exclusive festival circuit since January, first premiering at the Sundance Film Festival, but premieres at SXSW in Austin, Texas on March 18th. It will subsequently debut on HBO on May 4th.
Your Daily Blend of Entertainment News