The Soloist Shows Up Even Later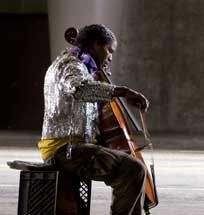 The release date of the Robert Downey Jr./Jamie Foxx weeper, The Soloist has been moved back… again. The film was originally intended for a November '08 release date and was pushed back to March '09 and will now be released on the first official summer box-office date, April 24, 2008.
Variety reports that DreamWorks and Paramount are both responsible for the second move, while Paramount was responsible for the first. As is, the film will open at the beginning of Summer '09, a loaded box office date, but much higher profile. Here's a shocker, people tend to go to the movies much more during the summer.
With Robert Downey Jr.'s comeback being vociferous and official, there are pictures everywhere of The Soloist. You may have seen them, they are the images in which Jamie Foxx is dressed extremely strangely and looks not right in the head. Why, you may ask, are all of these pictures of Jamie Foxx looking so unflattering? Because he's gotten back into actual acting and will play a schizophrenic homeless man with a dream. Downey Jr. plays a columnist who takes pity on him and recounts his story in the Los Angeles Times. It is based on a true events. Foxx's character is a violinist who wishes to play at the Walt Disney Concert Hall.
Your Daily Blend of Entertainment News