Some People Are Not Watching American Sniper Responsibly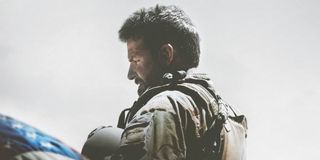 American Sniper dominated the box office during its opening weekend and set a number of records in the process. In addition, it has been nominated for a total of six Oscars, including for Bradley Cooper's performance as the deadliest sniper in U.S. history, Chris Kyle. However, it's also sparked a number of controversies in the process, and another one has unfortunately popped up.
According to the American-Arab Anti-Discrimination Committee, which is the largest Arab civil rights organization in America, there's been a dramatic increase in the number of "serious threats" made against Arab and Muslim Americans. Most of these messages were perpetrated on Twitter and Facebook, with direct references to American Sniper. As pointed out by Reuters, one tweet called Arabs "vermin scum," while others have included threats of death. To quell some of this resurrected bigotry towards Arabs and Muslims, ADC President Samer Khalaf wrote a letter to Bradley Cooper, calling for the Oscar-nominated actor to make a statement against these threats. It reads, in part:
As Khalaf noted outside the letter, boycotting the film would only serve to make audiences want to see it more and it wouldn't help snuff out this increased anger. Though Bradley Cooper and his director Clint Eastwood have yet to respond to the letter or the threats, Warner Bros. spokesman Jack Horner released a statement to Reuters. He said that the company both "denounces any violent, anti-Muslim rhetoric" and believes that hate and bigotry "have no place in the important dialogue that this picture has generated."
Aside from its skyrocketing ticket sales, American Sniper has been making headlines in light of statements made by Michael Moore and Sarah Palin. Moore originally called snipers "cowards" and bashed the film for glorifying them, though he more recently released a lengthy statement on Facebook declaring his longstanding support for the troops. Palin, however, was quick to lash back at him and liberals, before holding up a sign at the Iowa Freedom Summit that read, "Fuc_ You Michael Moore." Cooper has been staying mum through all of this, instead choosing to visit troops during a special screening of American Sniper at Brooke Army Medical Center. He also released a video statement supporting those fighting overseas.
However, perhaps this is the best time for the actor to break his silence. Despite best efforts, bigotry towards Arabs and Muslims still remains within the U.S. regardless of misinformation or misdirected aggression. Given the climate, it's in Cooper's -- and all of our -- best interest to snuff out a new wave of hatred before it crests.
Your Daily Blend of Entertainment News
Thank you for signing up to CinemaBlend. You will receive a verification email shortly.
There was a problem. Please refresh the page and try again.