Soul Surfer Trailer Pretends It Isn't About A Shark Attack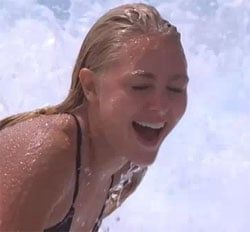 It seems like five minutes ago that AnnaSophia Robb was the little girl in Bridge to Terabithia or Race to Witch Mountain, but now she's all grown up and doing a surfing movie. Now nearly 18-years-old, Robb is the star of Soul Surfer, in which she'll play Bethany Hamilton. If that name sounds familiar to you, it's because she had her arm bitten off by a shark, and decided to go right on surfing anyway.
The first trailer for Soul Surfer has arrived and, here's the really bizarre thing: There's no mention at all of the shark attack. Instead if you watch carefully you'll note that a lot of the latter half of the trailer is spent keeping at least one of AnnaSophia Robb's arms out of sight at all times. Take a look:
Instead of hinting at what makes Bethany's story so compelling, and by extension this movie worth seeing, the trailer simply shows a lot of beautiful surfing shots while engaging a little gratuitous plugging of Dennis Quaid and Helen Hunt's involvement, without any dialogue while blaring peppy music. It's a pretty weird decision, particularly in light of the subject matter.
Your Daily Blend of Entertainment News